'Marty' the robot coming to Giant Food Stores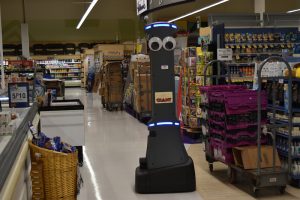 "Marty," a tall, gray robot incorporating the very latest in artificial intelligence technology, will soon be roving the aisles of the Giant Food Store at Logan Square in New Hope.
Developed through a partnership between Giant's parent company, Ahold Delhaize USA, and Jabil subsidiary Badger Technologies, Marty won't interact much with customers. Providing price checks, giving directions, or cheerfully pointing out this week's specials aren't in Marty's programming.
His specialty is spills. Whether it's an open bag of Tidy Cat litter spewing into the aisle, or a shattered jar of gefilte fish posing a menace to navigation, Marty will eventually come across the mess and electronically page a human worker to come clean it up.
"The robots' efforts free up associates to spend more time serving with customers," Giant explained in a press release Monday. "They also help stores mitigate risk caused by such spills."
The company says it will deploy the technological marvel to all 172 Giant and Martin's food stores during the next six months.
The Giant store in New Hope has enjoyed a virtual monopoly over local grocery retailing in recent years, but may soon come under pressure from McCaffrey's Food Markets, which on Jan. 3 confirmed that it's seeking to open a new location in the New Hope Shopping Center at 300 W. Bridge St.
And Poppy's Greengrocer, a socially-responsible produce market, hopes to open in April on Route 179 in New Hope. Basil Bandwagon Natural Market, a natural foods and supplements store, also intends to open its doors in nearby Lambertville in April at the former Big Bear Natural Foods site on North Union Street.
Presumably, Giant believes that leading edge technological innovations such as autonomous robotic spill detection will help maintain its competitive edge. Unlike its human counterparts, Marty can work endless hours without pay, benefits, or the need to take breaks.
A November 2017 report by McKinsey Global Institute estimates that up to 800 million jobs may be lost to robots over the next decade.