Soup in the spotlight at Trinity Day School fundraiser
Autumn is a great season for soup, and that's why the dish takes center stage during the third annual Bounty Fest: Bake & Broth at Trinity Day School in Solebury on Saturday, Oct. 20.
The event helps raise funds to expand the school garden, improve playground space, and enhance extracurricular programs for both students and community, say organizers.
Bounty Fest will feature soups donated by local chefs and restaurants, paired with bake goods donated by local bakeries. Some restaurants on board include returning contributors Bowman's Tavern, PA Soup & Seafood House, Chive Café, Caffe Galleria, and Jamie Hollander Gourmet Foods.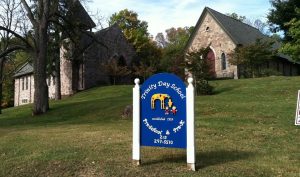 Joining for the event for the first time are  the Pork Shack, Greenhouse New Hope, It's Nutts on the Canal, the Hattery Stove & Still, Dilly's, John & Peter's, and the Lumberville General Store.
Soups will be sold unheated to be taken home and enjoyed on the chilly days to come.
Bakeries represented include the Happy Mixer Gluten Free Bakery, Maryanne Bake Shoppe, Factory Girl Bake Shop, and Fred's Breakfast. A light lunch of school-made "stone soup" and grilled cheese will be available for purchase to enjoy at the event.
It all takes place on Saturday, Oct. 20, from 11 a.m. to 1:30 p.m. at Trinity Day School, 6587 Upper York Road (Route 263) in Solebury.