Passing of Lambertville Legend Jim Hamilton
James H. P. Hamilton, restaurateur and visionary, who designed showrooms for Oleg Cassini, Diane von Furstenberg, and Ralph Lauren; windows for Tiffany & Co.; displays and lighting for Steuben Glass; the launch of the Ford Mustang at the 1964 World's Fair; and the stage and film sets for "Give 'Em Hell Harry," died on Feb. 2 from complications from diabetes at The Actors Fund Home in Englewood, New Jersey. He was 86.
As a teenager, Hamilton was hired to paint scenery for St. John Terrell's Music Circus in Lambertville, New Jersey. He soon worked his way up to set designer, a summer job he held for five years. He attended Brown University, received a degree from Rhode Island School of Design in 1953, and went to graduate school in Fine Arts at Yale, while working as a stagehand at the Schubert Theater in New Haven. In 1956, following service in the army, he co-founded a scenic design and set-building studio, Design Associates, with his mentor, Charlie Evans.
Design Associates, housed in a former roller-skating rink in Lambertville, produced scenery for a constellation of Broadway hits, including the original Broadway productions of "Hair," "Jesus Christ Superstar," "Godspell," "Equus" with Richard Burton, and "Dancin'." The studio also built touring sets for David Bowie, Tina Turner, the Rolling Stones' "Steel Wheels Tour,"and, for three years, Ringling Bros. and Barnum & Bailey Circus. Hamilton taught theater production at New York University and Brandeis University, and was a member of the IATSE and United Scenic Artists unions.
In the early 1980s, Hamilton opened Jim Hamilton & Company, an architectural design studio. The firm designed restaurants, homes, and various commercial projects. Design Associates closed in the late 1980s.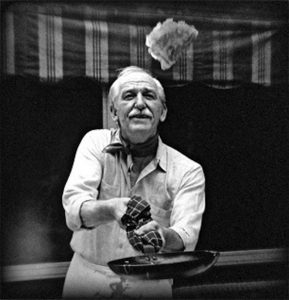 Born on April 20, 1931 to Dr. Lloyd A. and Marguerite P. Hamilton, Jim Hamilton grew up, worked, and lived in Lambertville for most of his life. Though he was a longtime resident and an active member of neighboring New Hope, where he raised his family, Hamilton was dedicated to his hometown.
In 1979, at the request of Lambertville's mayor Phil Pittore, he designed a comprehensive master plan for its moribund commercial district, and then set out to execute it. His vision was to retain the city's small river town ambiance while encouraging local businesses and restaurants. Once a week, Hamilton and the city's building official offered a free one-stop service to local property owners, who received design services for their buildings and the necessary permits to proceed with them.
Some of his design contributions to Lambertville's renaissance include the Swan Hotel Bar, the Boat House, and his restaurant, Hamilton's Grill Room, which he opened with his daughter, Melissa, in 1988. It was one of the first restaurants in the region to feature locally sourced meat, fish, and produce, and remains a landmark. Hamilton and his neighbors created Shad Fest, an annual event to celebrate the success of the federal Clean Water Act and subsequent return of the fish to the Delaware River waters off Lambertville. It combined food, art, fishing, and a parade, culminating in the crowning of the Shad Queen.
"I've lived most of my life in 'Brigadoon,'" he once said.
Hamilton, who was deeply gregarious, loved cooking elaborate meals, and he frequently offered his cooking skills for community and social causes. He once said that the greatest tribute he received was from an inmate who deferred his release from the New Jersey Correctional Facility by three weeks in order to finish a cooking class Hamilton taught at the prison. The State of New Jersey and City of Lambertville declared Sept. 17, 2005 as "Jim Hamilton Day."
Hamilton and his first wife, Madeleine (née Artières) of Barnet, Vermont had five children. His sons Jeffrey and Todd predeceased him. He is survived by his three remaining children, Melissa, Simon, and Gabrielle. He is mourned by his second wife, Judy Studer Hamilton of Beach Haven, New Jersey, his two stepchildren, Eric Studer and Jessica Studer, his brother, Lloyd A. Hamilton, seven grandchildren, his nieces and nephews, and his many friends.
Contributions in lieu of flowers can be made to Mr. Hamilton's last civic project, Friends of Ely Park, 8 Coryell St., Lambertville, NJ 08530.