Former Lambertville-New Hope Ambulance and Rescue Squad Chief Back at the Helm
A familiar face is back in charge of the Lambertville-New Hope Ambulance and Rescue Squad. Harry J. Heller III has returned once again as its chief.
Heller previously served as squad chief four times over the past 30 years.
Heller takes over the position from Jason E. Strauss, who served from 2014 through 2017. A member of the squad for over four decades, Heller joined in 1974, and became an Emergency Medical Technician (EMT) in 1975. He previously served as chief in 1987, 1988, 2004 and 2005. Over the years, Heller has also been a lieutenant, deputy chief and chief of line operations, as well as vice president/chairman of the board of trustees.
He's seen dramatic change since becoming chief, the most significant being the advent of
life-saving equipment found in ambulances today. Things like the Lucas mechanical CPR machine, Narcan nasal spray used to treat narcotic overdose victims, or even a defibrillator, weren't found on board an ambulance during his first administration. He credits that technological evolution for saving countless lives.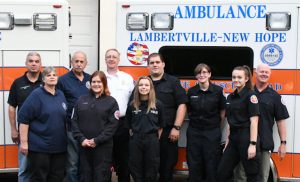 Heller also highlighted the increase in emergency call volume over the years, reaching nearly 2,000
calls a year in recent times, up from about 1,100 back in 1987. Despite the pressure on staff, he's seen a decline of the number of volunteers who joining  the squad. He's targeted that as a primary issue he wants to address as chief.
His first task, however, will be to bring himself up to speed on the changes to the job and maintain the
steady course the squad has continued to follow.
"I hope to continue on the path we've been on," said Heller. "Maybe I will tweak it a bit, but we are
going to continue moving forward."
In addition to his leadership roles with the squad, Heller has also served on several committees
over the years, including the ambulance and rescue truck purchase committees. He has filled the role of communications/radio officer, equipment officer, and assisted in the establishment of the
career staff, which was created to cover emergencies during daytime hours.
Heller recently retired as chief of communications for the Hunterdon County 911 communications center. His father was a charter member of the Lambertville Rescue Squad in 1946.
"I am so proud to once again serve as chief of this terrific squad," Heller said. "Our volunteers
and career staff help save lives every day, and it is a privilege to lead them."
"Having a guy like Harry in charge again is great news," said President Don Huggins. "He
already knows the ropes, and will play a big part in moving this team forward."
The Lambertville-New Hope Ambulance and Rescue Squad responds to emergency medical and water rescue calls in Lambertville, New Hope, West Amwell, Solebury and Delaware townships. The organization counts on men and women of all ages and all backgrounds to join together and respond to these emergencies. For more information about becoming a volunteer member, visit LNHARS online.