Mayor Del Vecchio Delivers Meals on Wheels to Lambertville Residents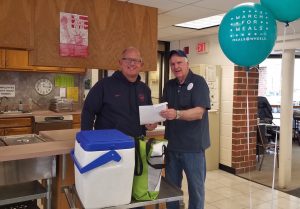 Lambertville Mayor Dave Del Vecchio recently helped deliver freshly-prepared food to older Lambertville residents as part of the Meals on Wheels program.
With federal budget cuts to the program threatened in Washington, "It was an important time to demonstrate support for this essential program that helps so many of our home-bound and often isolated older residents," explained Del Vecchio in a press release.
"We appreciate Mayor DelVecchio participating in the 15th annual March for Meals Campaign," said Regina Hlasney executive director of Meals on Wheels in Hunterdon, Inc. in the release. "It's a nationwide celebration of Meals on Wheels and the vulnerable seniors who rely on its vital services.
"This March, hundreds of local Meals on Wheels programs like Hunterdon's will reach out to their communities to build the support that will enable them to deliver nutritious meals, friendly visits and safety checks to America's seniors all year long," Hlasney added.
Meals on Wheels America is the oldest and largest national organization supporting the more than 5,000 community-based senior nutrition programs across the country that are dedicated to addressing senior hunger and isolation. With more than two million volunteers in a nationwide network, Meals on Wheels delivers nutritious meals, friendly visits and safety checks that enable America's seniors to live their lives with independence and dignity.
Save