Yard sale to benefit New Hope – Solebury Girl's Field Hockey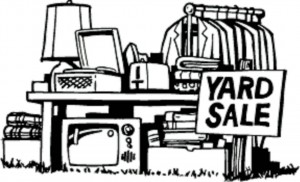 The New Hope-Solebury High School Girl's Field Hockey Team will be holding a community yard sale on Saturday, Sept. 7 from 7 a.m. 'til noon. The sale will be located on the grassy area adjacent to Bridge Street near the high school and district offices (180 W. Bridge St.).
All community members are invited to participate by shopping, or selling all the stuff that's been cluttering up their home or garage — $20 per spot (bring your own table). If you don't want to take unsold items back home, organizers are providing a truck that will pick it up at the end of the sale and donate it to a worthy cause.
Sounds like fun!