Caffe Galleria in Lambertville to close in March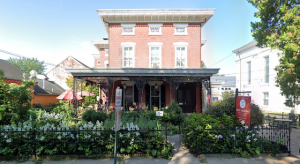 Lambertville's famed Caffe Galleria will close its doors March 14 after serving the area for some 25 years.
Located at 23 N. Union St., the coffee shop/Mediterranean restaurant has lived up to its motto throughout the years as "The place where the unapologetic carnivore and the dedicated vegan can dine together…happily."
Owner Beth Caruso announced her decision this week on the restaurant's website.
"It is with mixed emotions that I share with you Caffe Galleria will be closing on Saturday, March 14th," she wrote. "Twelve years ago I never would have thought that I would be leaving the corporate world, where I wore fabulous shoes, to working behind the counter at City Market wearing Dansko shoes. I am thankful for it every day. If that life event did not happen, I would have never become truly intertwined with the Lambertville community and more importantly, I would have never met Dawn Raia."
Raia founded City Market, a cafe/deli in Lambertville, and Caffe Galleria, initially in New Hope, which she envisioned as a place for artists to enjoy a good cup of coffee and show their work. After meeting Raia, Caruso was soon handling inventories, placing orders and managing the books for both businesses.
After Raia's passing in 2014, City Market was sold and Caruso kept Cafe Galleria going strong, at least in part to honor her partner's memory.
"For quite some time I thought that Dawn's legacy was Caffe Galleria," Caruso said. "Without Caffe Galleria, she somehow would be forgotten, and that scared me. However, this community has shown me that that is not the case. Almost six years after her passing, and people still tell me stories about her. They still laugh about a crazy idea she had or marvel at how she could just make things happen. They still say her name. What more could anyone ask for?"
Caruso concluded by expressing gratitude toward her staff, customers and the community.
"I am honored to be a part of this wonderful, caring community and look forward to sharing more great conversations, loud laughter, friendly bantering and of course, hugs," she said.
Below, a video tribute to Dawn Raia from 2014 featuring music by John Beacher: