New Hope Chamber announces 1-week holiday parking, holiday party awards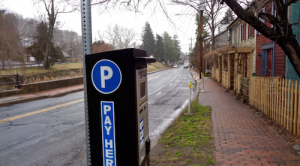 The New Hope Chamber of Commerce on Monday announced that New Hope Borough will offer free holiday parking at metered spots downtown from Dec. 17 to 25.
Free parking during the Christmas shopping season is a New Hope tradition that is typically offered from Monday to Thursday during the two weeks leading up to Christmas, and in some years has been provided every day from Thanksgiving to New Year's.
As of last Friday, plans had not been made for holiday parking this year — the chamber assumed the borough would arrange it, and the borough was waiting for the chamber to approach them.
Separately, the chamber announced that Michael "Pumpkin" Gardner and others will be honored at their annual holiday dinner being held Wednesday from 6:30 to 9 p.m. at Havana in New Hope.
"Michael has raised money for AIDS research, for New Hope Parks and Rec, and the New Hope Chamber of Commerce, for LGBTQ civil rights…the list is endless and so is his giving," noted the chamber in a release.
The holiday party is open to the public, with free food and a cash bar. Organizers ask that those attending bring canned goods for Fisherman's Mark or toys for "Toys for Tots."