Raven management to purchase Blue Moose Restaurant in New Hope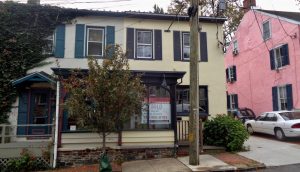 The manager and former owner of New Hope's Raven bar/restaurant/hotel is purchasing the Blue Moose Restaurant & Cafe in New Hope and will open a new eatery at the site in the coming weeks, according to sources close to the deal.
The transaction is expected to close Oct. 15.
The Raven on Sept. 9 made a surprise announcement that they would cease operations on Oct. 14.
Gateway to New Hope, LLC, who bought the Raven in June, said last month that the property would be used as a valet parking lot for their new Riverhouse at Odette's luxury resort, expected to open next spring at the southern end of New Hope on River Road. They also announced that they intended to build a new, improved club at the Raven site.
Gateway leased the Raven back to prior owner Sam Ambani in June, and he has continued to serve as manager.
The popular Blue Moose closed its doors on Aug. 11. Owner Skylar Bird originally purchased the building at 9 W. Mechanic St. and opened the eatery in 2011.
Founded in 1979 at 385 W. Bridge Street, the Raven is New Hope's last remaining gay club, following the demise of the Cartwheel and Prelude in years past.
A phone call to Ambani was not returned.