Amazing 'Full Monty' will pack the house at Music Mountain Theater in Lambertville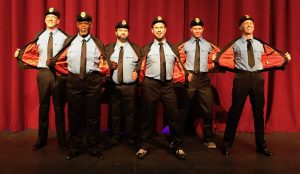 By John Dwyer
This show should sell out, so I would stop reading right now, pick up your cell or get yourself to a computer, and order tickets. This seamless ensemble is that good.
Music Mountain consistently seems to be putting out fine product. Their shows are most often culled from the successful musicals of Broadway and off-Broadway. Their productions feature performers in the leads that are as good as anything that you may see at an Equity house. Since they also serve the community and have a school to teach acting, singing and dancing, they provide a space for non-professionals to grow. And some of the young people who they teach go on to work in the theater. This is a wonderful idea and a wonderful place. When they hit the ball out of the park with a show, I am delighted to say so, and that is what is happening with "The Full Monty."
Shows that address what it means to be an average guy living in today's America is one that is perfect for Music Mountain Theater. And that is the story of "The Full Monty." It resonates for the Everyman of Hunterdon and Bucks counties with subject matter more at home here than in the steel skyscraper canyons of Broadway and Times Square. A must-see. Why? Because they nailed it.
The Broadway musical debuted at the Eugene O'Neill Theater in New York in 2000, and was based on the 1997 British film with the same name. The book was re-written by one of the best writers out there, Terence McNally, and the setting is now the industrial town of Buffalo, New York. The story line is pretty much the same as the film, following the tale of out of work steel workers, who are looking for a job, but can't find anything close to the pay that they had been making. Unemployed, they feel stripped of their dignity. If married, the wives are the breadwinner. On their own or living with parents, their identity has been taken from them.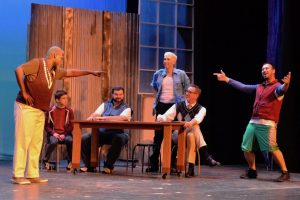 For example, Jerry Lukowski (Bryan Enright) has child support to pay his ex-wife or she will go to court. He feels under siege. When he goes along with his best friend Dave Bukatinsky (David Fusco) to a club with a Chippendales review to retrieve Dave's wife, they discover that male strippers make some serious cash. That is when an idea hits Jerry. Jerry knows that most of the guys at his steel plant are great guys. Guys who would give you the shirt off their backs. So, Jerry thinks: "What if they give a little bit more?"
The rest of the show is Jerry convincing his unemployed friends to become strippers and work what God has given them. The problem is they are typical middle-class Americans who are overweight and, as noted in one song, they don't have "The Goods." But where there is a will, there is a way.   Well, it's more like "No matter what you weigh, if you show your willie, there's a way." And the revue and the show does go the full monty. God, bless 'em.
When I saw this on Broadway, the lead was played by Patrick Wilson as Jerry. Wilson is a great-looking guy who was wonderful in the role, but not as believable as Bryan Enright, both physically and as an actor. Enright as Jerry is a thirty-something guy next door — a regular guy you'd imagine loves Springsteen, talks sports, drinks a beer with you, helps a buddy out whenever a buddy asks. You know this guy. Better than the original, Enright's performance makes you smile because of it being so honest and true. Enright, also, has a great soft rock voice.
David Fusco as Bukatinsky is the big guy in the story. His being overweight is a hurdle that his BFF Jerry has to make him forget, in order to make him into a male stripper. David, the actor, has given David, the character, an affability and charm that reminds you of Jack Black.
Mark Whitman and Louis Palena are wonderful as Ethan Girard and Malcolm MacGregor, respectively. Mark has a great bit trying to emulate Donald O'Conner and Louis has several touching moments during the show in regards to his personal relationships. Erik Snyder plays Harold Nichols, the supervisor at the plant, who is also laid off. He has a wife, Vicki Nichols (Elizabeth Kane) with expensive tastes. His fall from grace is another note that rings true in 2019, even more than it did in 2000. It is a sad fact that the characters presented here seem familiar because they remind many of family or friends. That is five of the six male strippers that Jerry has gotten together for "Hot Metal," which is the name of their revue. There is one more and he stops the show.
Tim Chastain continues to do good work but this performance is something special. Tim plays Noah "Horse" T. Simmons, the only black performer in "Hot Metal." The role was originally played by Andre de Shields on Broadway. De Shields won this year's Tony for "Hadestown." Always in the moment, Chastain is so at ease on stage. He knows when to take his time and when to go into energy overload, which he does in his song "Big Black Man." At curtain call, when the cast came out to a well-deserved standing ovation, Chastain did get an earful of approval. He really worked it and the audience responded in kind. He gave a truly memorable performance.
The ladies in the show, though always fully dressed, get hoots and hollers, as well, at the finale for their excellent performances. This includes Jenna Parilla as Georgie Bukatinsky (Dave's wife). Jenna, also, is the musical director of the show. Kudos to Jenna! Joan Hoffman is a great character actress who is hilarious as the show business maven/piano player, Jeanette Burmeister. And Elizabeth Kane as Vicki Nichols does a delicious rendering of "Life with Harold." Kane will be remembered for her exceptional performances in past productions as Sarah Brown in "Guys and Dolls" and Marian Paroo in "The Music Man." Leslia Bilysky as Pam Lukowski stood out as the ex-wife of our protagonist Jerry. Her sympathetic portrayal of Pam Lukowski showed the reality that wives sometimes leave good men when circumstances warrant it. Their child was, in part, part of the reason. Shout outs to Jaydin Houck as Nathan Lukowski (Jerry's son), Roger Madding as Reg Willoughby, Mike Prikril as Chippendale dancer, Buddy "Keno" Walsh and David McClouhgan, Jr. in multiple roles as the factory worker and minister. David always gives 100 percent.
David Yazbek wrote catchy tunes and incredibly funny lyrics for this show. He is currently represented on Broadway with "Tootsie." Some of the best songs and performances are "Scrap" with its dissonance reflecting what it is like to be out of work and scrapped., along with "Big Ass Rock," "You Rule My World" and "You Walk with Me." Nothing could be funnier than when in a kind of wistful "You've Got a Friend" melody, Jerry and Dave tell co-worker Malcom how they understand desperate measures in the song "Big-Ass Rock." And nothing could be more beautiful than "You Walk with Me," sung by Malcolm and Ethan. Louis Palena and Mark Whitman sound beautiful together and create one of the most touching moments of the show.
Credit to the director Jordan Brennan for perfect casting. Also, it must be mentioned that Brennan's choreography in "Scrap" and "Michael Jordan's Ball" is wonderful and performed perfectly.
Before I "Let It Go" (which is also the finale number and the big reveal), it takes nerve to expose yourself and be vulnerable and to take chances in life. The out-of-a-job characters in the musical did. So did these actors. And when you do, there is a chance for a big payoff. In both situations, they worked for it. In the case of Music Mountain Theatre, there was a big, hearty standing ovation.
The lesson to be taken away from this show and this production? Play the cards God gave you and sometimes, when you take a risk, a full monty wins with a full house. You have got to see this show. It is a joy.
The show goes until June 23, and tickets are available online.