REVIEW: Langhorne Players opens season strong with 'Becky Shaw'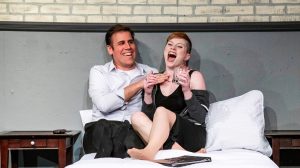 By John Dwyer
A play may be like a recipe. It may always be at least fine, no matter what, when it is a good recipe. But with the right ingredients, it can be taken to another level and be spectacular.
The Langhorne Players got the recipe right with "Becky Shaw," a play by Gina Gionfriddo. It is a good play, nominated for the 2009 Pulitzer Prize for drama, and it won the Outer Circles John Gassner Award for playwriting. The bottom line: get your tickets quick, as the Langhorne Players has assembled the perfect cast.
If you YouTube this show, you will see a pale facsimile of what it can be. It originally was commissioned by the prestigious Actors Theatre of Louisville, and premiered off -Broadway at the equally notable Second Stage Theatre. It was subsequently seen in a well-received production at the Wilma Theatre in Philadelphia. Regardless of how notable those venues are and how lauded those productions must have been, it would take a lot for me to believe that it could be any better than what we are seeing at the Spring Garden Mill at Tyler Park in Newtown, where this group resides.
The play opens with the death of Suzanna Slater's father, and both she and her virtual brother, Max Garrett, have come to go over the estate with Suzanna's mother, Susan. Max had been brought into the family as a child, never formally adopted and was raised by the Slater family. He is a financially successful, self- interested (as he believes all people to be) man and is there to tell the Slaters what they can and can't do with the meager money that is left from the family business.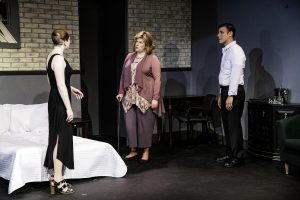 A few scenes later, Suzanna Slater will marry the polar opposite of Max. Whereas Max is cutting and acerbic, her new husband, Andrew Porter, is kind and overly empathetic. So much so that he finds at work Becky Shaw, who has a knack for meeting Mr. Wrong and goes through bad relationships like water. She seems vulnerable, fragile and sweet. Andrew wants to help her and, through his wife Suzanna, fixes her up on a blind date with Max.
Suzanna Slater, Max Garrett, Andrew Porter and Becky Shaw are four of the most dysfunctional millennials that you could ever meet. Max is an aggressive personality, Andrew is passive, Becky is passive-aggressive and Suzanna is a hybrid who is trying to find some balance in an unbalanced world.
The story line covers a bit of territory, but primarily focuses on how people in established relationships react when confronted by extreme situations and how boundaries can get crossed. There is a bit of a "No Exit" situation going on with everyone seeming to "feel" the wrong thing toward the wrong person.
In the course of the play, the question of whether "love exists or not" comes up. Susan and Max believe love is a matter of someone or something fulfilling your needs. Suzanna and Andrew believe that there is something greater going on than that. And as to what Becky believes and how the play turns out, that gets resolved by the end of this quickly-paced, funny and thought-provoking two hours.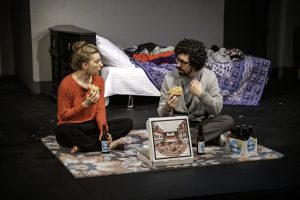 Cat Miller as Suzanna Slater is an actress for whom I wish I could find a superlative grand enough to describe her performance. She has laser focus and is so present in every moment. The character she plays is complex and nuanced. The playwright Gina Gionfriddo has given all of her characters some funny lines, while putting them into awkward situations. But, as Suzanna Slater, Cat Miller has to hit that sweet spot of being feisty and tough talking at one moment, but then quite vulnerable in the next. She takes no bull from Max. He piles it on and she throws it back, and the repartee between the two is bitchy fun. Imagine a modern day Tracy and Hepburn in an HBO movie and they are talking dirty to each other.
Matt Duchnowski as Max Garrett has to have cockiness, be self-assured and have a sense of owning any room he is in. Duchnowski nails it. He could not be better. Max Garrett is a smooth talking, sexy narcissist with a Machiavellian streak. It's as if he were channeling a snarkier new-age Gordon Gekko (a la "Wall Street" with Michael Douglas).
The cast is filled out with the title character of Becky Shaw played by Charlotte Kirby. She is chameleon like as she follows the arc of her character. She continues to give excellent performances. She was last seen in "Doubt" as the postulate nun last season at this theater. Susan Fowler, as the plain speaking, live-for-today mother Susan Slade, makes a strong impression as the matriarch whose time may be limited. She has multiple sclerosis. Chris Capitolo is charming and cute as Andrew Porter, the softer feely-touchy husband who is married to the harder, more tense Suzanna.
Kudos to the director Maryalice Rubins-Topoleski for the fast-paced, never-flagging production and for casting so well. I also see that she, along with Charlotte Kirby and Hayley Rubins-Topoleski, did set construction and painting. It is good to be a Renaissance woman, but it is hard to imagine where you get the time and energy. Hats off to you. Kudos also to Ruth Rittman for costumes and to the entire production staff.
The show runs until May 11, and tickets are available online.