'South Pacific': An enchanted evening at Music Mountain Theatre in Lambertville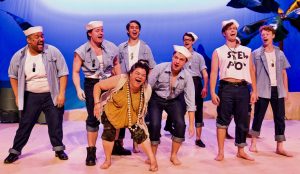 By John Dwyer
In the middle of summer, there could not be a better choice for theater fare than the tropical setting of Bali Hai and the South Pacific.
It is the middle of World War II. It is hot. But as men are preparing for war, there still is romance and there are issues of prejudice to deal with that are seen on a personal level and on the world stage. On the Music Mountain stage, we are blessed to have a production of Rodgers and Hammerstein's "South Pacific," based on the James Michener novel "The Tales of the South Pacific." That Hammerstein and Michener were both Doylestown/Bucks County natives makes an even more compelling case to sail off to this show with its delightful crew — I mean cast.
The show was adapted from James Michener's compilation of 19 short stories in 1947, which won the Pulitzer Prize for fiction in 1948. The stories were based on real life experiences that were culled from Michener's notes during the war when he was a naval historian. An interesting fact is that, though he was called to service, he had been raised a Quaker and could have avoided going into war due to religious conviction. Stories differ as to how the book was brought to Hammerstein's attention, but when it was, one story stood out and that was "Fo' Dolla'," involving the inter-racial love relationship between Lieutenant Joe Cable, a Princeton graduate from Main Line Philadelphia, and the Tokinese woman, Liat. She is the beautiful daughter of the foul-mouthed but delightfully funny Tokinese businesswoman Bloody Mary. Bloody Mary sells grass skirts, shrunken heads, and boar's teeth to servicemen as souvenirs. This short story was one of four that Michener thought to be his best work.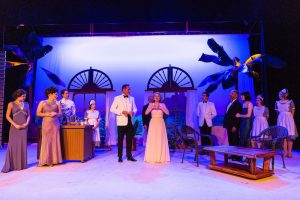 In development of the musical, it was found that additional material was needed and that came from the eighth tale, "Our Heroine," the story of Nurse Nellie Forbush and South Seas Island French plantation owner Emile de Becque. In that story, Nellie finds out he has eight out-of-wedlock daughters from different native women. She objects to two of them, who are too dark skinned and feels she can not continue a romantic relationship with Emile. The musical changes that story to Emile marrying a Tokinese woman and having a boy and a girl by her. Again, Nellie can not stand the idea of mixed marriage and having mixed non-white children. This story becomes the main focus of the musical, but it dovetails with the Lieut. Cable and Liat story in pushing the theme of American racial prejudices.
It is unusual in a musical to have two romantic story lines that are both serious. Usually, the main leads (in this case, Nellie and Emile) are the serious relationship, but the secondary romance is there for comedy. The show is more of a musical drama and both romances were there to underscore the theme.
The singing is very good, but the acting is really what this show is about with its serious themes, and it is here that I want to focus on the good storytelling these actors have done in moving minds and hearts. Yes, there is lush music. You are romantically swept away by "Some Enchanted Evening," sung by Erik Snyder as Emile. You are equally swept up by an All-American perkiness of Arkansas native Nellie Forbush (Jen Gurksky). When she sings "A Cockeyed Optimist, "A Wonderful Guy" and "I'm Gonna Wash that Man Right Outta My Hair," and you can't help but identify with such an up and seemingly positive young woman. But it is when Ms. Gursky realizes that the dark Polynesian children in the house are her boyfriend's that we realize that being All-American also carries some prejudices with it. Gursky's change is visceral and swift. It is a powerful moment in the musical play.
It dovetails with the similar situation of Ivy League Lieutenant Cable and Liat.  Dan Drew as Cable is…well, "perfect" is a good word. His honest portrayal and conflicting emotions affected the entire audience. He captured the sense of a young man whose duty to his country and to his mission were compromised by how he was unsettled by his feelings for Liat. Killing the Japanese while loving a Tokinese, who would never be accepted back home in Philadelphia, was given a painfully accurate portrayal. Jean Hsiao was lovely as Liat, and her dance was sweet and innocent.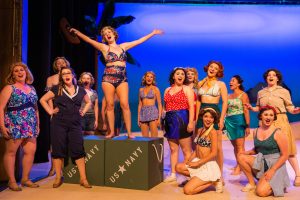 And, finally, "Bloody Mary is the Girl I Love." That is not just a lyric but what audience members say exiting in a breakout performance by JoeMarie Apelt. Her brashness and self-assuredness is on point. The accent is spot on. But regardless of bravado, she stills captures a mother's love and a mother's desire for her daughter to find happiness. She, not unlike other brown immigrants today, wants a better life for her child than she has for herself. Her voice is gold. Joe Marie Apelt's voice is all brass and bellow and not the usual softer, chirpy tones for "Happy Talk." But it is for the good. I now won't be able to hear anyone else sing the songs the old way. I love her energy and gusto. It is what Bloody Mary is all about. I feel like I got results from Ancestry.com and just found out that Bloody Mary shares DNA with Mama Rose. Apelt couldn't be better.
The sets are wonderful, as are the costumes. But I do have a few critical comments. I understand trying to use younger people as sailors but, ideally, they should be primarily in their twenties and up. It is noticeable and, historically, the men who were conscripted and volunteered were of all ages. Those too young were lying up to get into the armed services. Those too old were lying down to get in. It also set off Luther Billis, the always excellent Eddie Honan, as seemingly much older comparatively. He would be older, but not to such a degree to others in his troop.
This other comment is not so much criticism as reassurance. Music Mountain fills a special spot in our area. It is a safe space to learn the art of theater. It has seasoned professionals teaching students who do their own productions, as well as main stage. Students and community members, in main stage productions, share the spotlight with seasoned performers.  It is a great place to practice, expand and learn your art, regardless of experience. There was a new person to the stage who was having some line problems. This was not a lead. I am a firm believer that everyone should get themselves on stage and be a part of the arts. I know it can be nerve wracking, but take a deep breath. Telling stories and putting yourself in other people's shoes is a wonderful thing. You are entertaining and moving us. You are helping us to think. And, for the newbie performer, you are understanding a different person that you were assigned to be by your director for two hours. You will now have greater empathy for others because of what you did . You walked a mile in someone else's shoes. You are better for it and so are we.
Our understanding each other is the theme of "South Pacific." On every level, this show is about what Lieutenant Cable sings in "You've Got to be Carefully Taught." He said that "you've got to be taught to hate and fear." But you don't have to do it. You don't have to hate and fear. The show tells you that. Performing theater tells you that, too.
This enchanting evening continues through July 14, and tickets are available at www.musicmountaintheatre.org.
Addendum: I want to bring awareness to saving the Hammerstein home, where the lyrics and book of "South Pacific" were written. Hammerstein wrote the libretto with the help of director Josh Logan, who advised on the military aspects of the script. "Oklahoma," "Carousel," "King and I," "Sound of Music" were all written there by Oscar. The home is a theatrical landmark. Make a donation or find out more about this historic home online.