Eagle Fire Company in New Hope offers CPR classes this week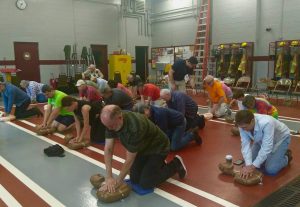 New Hope Eagle Volunteer Fire Company will host two CPR and heart awareness classes this week in conjunction with the Greater New Hope Chamber of Commerce.
The classes are free, and will be held at 9 a.m. on Wednesday, June 5, and Saturday, June 8, at the New Hope Eagle Fire Company building at 46 N. Sugan Road.
The American Heart Association will present information on Wednesday, and Pat Pittore from New Hope-Lambertville Ambulance and Rescue Squad will offer information on Saturday.
The event was organized by John Dwyer, whose husband Herb Millman passed away in 2017 from a heart attack.
New Hope has a larger than normal retirement community, and the average age is 50, 19 percent higher than the norm in a state that already has an aging population, Dwyer noted.
"What all this means is that there is a greater likelihood that you may be in a situation where CPR will be needed due to the age of our community and other factors," he said. "For yourself, for your spouse, for your parents, loved ones, friends and visitors, the Greater New Hope Chamber of Commerce and Eagle Fire Company invites one and all to their CPR and Heart Awareness class in honor of Herb Millman."