Local show celebrates the art of the button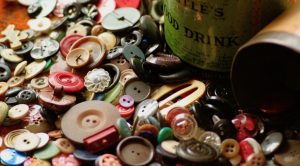 A little known art form gains notoriety during National Button Week, March 17 to 23, according to the National Button Society.
Not just of utilitarian value, many vintage buttons were miniature works of art. Many made by hand, they are unique pieces. The older buttons were made of bone, shell, antler, plaster, glass, hoof and many other substances.
"Check out your mother's or grandmothers' button tin and see what treasures you can find," says Sara Howell, a New Hope resident and member of the New Jersey State Button Society "They all had button tins because buttons were a commodity too precious to waste."
Howell cautions, however, that tightly closed tins and jars may harm some of the buttons. Celluloid buttons in airtight compartments have the telltale smell of moth balls; they could deteriorate and harm "healthy" buttons. For information more info on button storage, email buttonsinnewjersey@gmail.com.
The 77-year-old state society invites those curious about buttons to its semi-annual meetings and shows, and this year's theme is "Celluloid: Pioneering Plastic." Dealers display thousands of buttons organized by the subject pictured or materials. And members compete with trays of buttons showing, for instance, horses or flowers or buttons made from Bakelite.
The spring show we held on Saturday, May 11, and the fall show takes place on Saturday, Sept. 14. Both take place from 9 a.m. to 4 p.m. at the Union Fire Hall, 1396 River Road, in Titusville, N.J. Admission is $2 for adults. Call (732) 356-4132 or (609) 921-2774 for more info.