Fugitive David Hamilton believed to be in car stolen from Solebury resident
UPDATE 2 p.m.: Fugitive David Hamilton was allegedly aided by Meredith Custodio, age 58, a live-in caretaker of an older woman at 241 Bobwhite Road in Solebury. She's now under arrest. He's a former cavalry scout in US army, with three tours in Iraq. Local residents need not "hunker" down, but stay alert, keep doors locked, and secure outbuildings, advised Solebury police chief.
Update 11:30 a.m.: Fugitive David Hamilton may be camping along the Delaware River Canal in the New Hope/Lamberville area using a white tent with a red top, the U.S. Marshals Service said.
Police believe that fugitive David Hamilton may be on the run in a car he stole from from 241 Bobwhite road in Solebury last night.
They're asking the public to be on the lookout for a white 2016 Toyota Avalon bearing Pennsylvania registration PD3759P. The identity of the owner of the car is not being named, but "PD" designates "person with disability" in Pennsylvania.
"If the vehicle or Hamilton is observed, contact 911 immediately," police said in a statement.
U.S. Marshalls from the Eastern Pennsylvania Violent Crime Fugitive Task Force announced Thursday that they have joined the hunt for Hamilton. Hamilton may be camping along the Delaware River Canal in the New Hope/Lamberville area using a white tent with a red top, the Marshals Service said.
The search for Hamilton, a 47-year-old Trevose man accused of multiple sexual assaults of two female minors which occurred over the past five years in Feasterville, began locally Friday afternoon after he was spotted by a local resident near Stoney Hill and Reeder roads at around 3:45 p.m.
A New Hope police officer managed to catch Hamilton soon after, but he escaped into the woods after a brief fight, nearly grabbing the officer's gun in the process. Hamilton was charged on Sept. 21 with aggravated assault in relation to that incident.
New Hope and Solebury police officers scouring the woods were quickly joined by law enforcement personnel from Lambertville, Buckingham, Doylestown, Bedminster, Lower Southampton, Northampton, and Upper Makefield, along with K9 units from Quakertown, Lower Makefield, and the Hunterdon County Prosecutor's Office.
Also joining the effort were Pennsylvania State Police, New Jersey State Police, Bucks County Park Rangers, and the Bucks County D.A.'s office.
Authorities had advised nearby residents to shelter in place late Friday afternoon, and a helicopter could be seen and heard overhead until the early evening hours. The search area seemed to shift over time farther south along Sugan Road in New Hope toward Aquetong Road in neighboring Solebury Township.
The focus of the sweep had been the triangle formed by Aquetong, Sugan and Stoney Hill roads in Solebury Township. But by Saturday morning the search area had widened.
"We are covering everything from River Road/Washington Crossing Park to Street Road, and Route 232 out to Route 202," said a Solebury police spokesperson.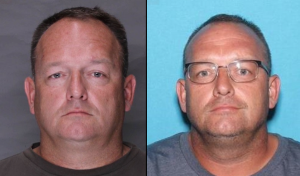 A warrant for Hamilton's arrest had been issued issued Wednesday, and he was sought by Lower Southampton police.
Hamilton seems to have a penchant for white Toyotas — a white 2016 Toyota Corolla believed to have been driven by Hamilton was recovered in Morrisville last week.
Updated 11:44 a.m., 2:30 p.m.