Police say alleged child rapist spotted in New Hope
UPDATE 4:56 p.m., Sept. 21: Fugitive David Hamilton was observed in the area of Sugan and Stoney Hill roads in New Hope today. Police are searching the area. Police advise residents to secure their property and contact 911 immediately to report any suspicious activity.
A Trevose man wanted for multiple sex offenses against minors was spotted in Morrisville on Friday, and Solebury police are advising citizens to be on the lookout.
David Hamilton, 47, is wanted by Lower Southampton police for a string of alleged sexual offenses against children, including rape, involuntary deviate sexual intercourse, and aggravated indecent assault. A warrant for his arrest was issued Wednesday.
Hamilton was last seen this morning at 12:15 a.m. as he was crossing the Calhoun Street Bridge into Trenton, N.J.  Police are asking the public to pay special attention to areas along the Delaware River and canal towpath.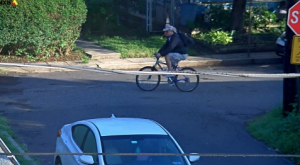 A white 2016 Toyota Corolla believed to have been driven by Hamilton was recovered in Morrisville. Police say he was last seen riding a blue bicycle while wearing a boonie hat, dark jacket, light-colored shorts and sneakers.
Lower Southampton police are asking that anyone with information about the location of David Hamilton or the bicycle in the photo to contact Detective Sergeant Scott at (215) 357-1235, ext. 344, or at gscott@LSTWP.org. If you are actively aware of Hamilton's location or in his presence, dial 911 immediately, say police.