Fire at iCandy & Creamery in New Hope quickly extinguished Saturday night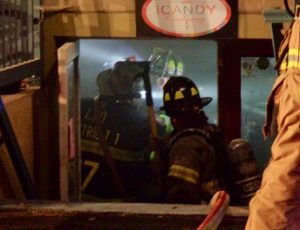 A fire at iCandy & Creamery store in New Hope Saturday night was quickly knocked down by New Hope Eagle Volunteer Fire Company .
Firefighters were called out at 9:13 p.m., and arrived at the scene to clouds of smoke billowing from the door at 2 E. Ferry St., just off South Main St.
The streets were filled with revelers, enjoying the cool early fall evening. Diners at the Salt House pub just across the street looked on from their outdoor tables as sirens blared, lights flashed and firefighters suddenly filled the street.
The volunteers brought the fire under control within minutes, breaking several small windows at around 9:30 to ventilate the basement-level shop.
No injuries reported at scene, and the cause of the fire had not yet been determined.