Police say Thursday's fire in Solebury Township intentionally set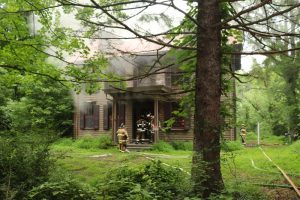 Solebury police said Friday that a blaze at 1632 River Road was a "set fire," according to their ongoing joint investigation of the incident with fire marshals from the county and state.
The fire at 7:40 a.m. on Aug. 2 caused moderate damage to the historic Victorian Neely House in Solebury Township.
Police say that investigators are aware of two other fires that occurred recently near the location of Thursday's blaze.
"At this time there is no connection noted in regards to the other two fires," police said.
Solebury Police Department asked that anyone with information on the fire at Victorian Neely House call (215) 348-7400.