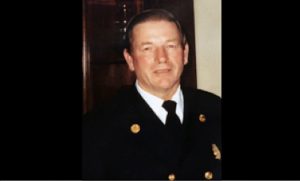 Ronald R. Tillett Sr., age 83, died Thursday, July 19, at his home in West Amwell Township, N.J., surrounded by his family.
Born May 3, 1935, in Ridley Park, Pa., Ron was the son of the late Richard and Sara (Lake) Tillett. Early in his life, Ron and his family moved numerous times, eventually settling in West Amwell.
Ron served on a cargo ship in the United States Navy during the Korean War. Upon his discharge from the Navy, Ron met the love of his life, Nancy Jean Hann, at a local street fair. With much persistence, the two were married in 1956 and began their family shortly thereafter, raising five boys in the Lambertville area. He cherished spending time with his family at their family built home in Gouldsboro, Maine. In addition, he collected O-Gauge model trains, and eventually Ron and Nancy travelled to some of their favorite places, including Italy and Alaska.
In 1963, Ron and Nancy opened Ronald R. Tillett & Sons, a plumbing, heating and air conditioning business, in Lambertville. He was a member of the Independent Order of Odd Fellows in Lambertville, the Plumbing Heating Cooling Contractors Association (PHCC), the Hunterdon County Board of Construction Appeals, the Hunterdon County Fire Chiefs Association, and the New Jersey Volunteer Firemen's Association.
Firefighting was a big part of Ron's life. He started by joining the Columbia Fire Company #4 in Lambertville in 1958, served as Fire Chief from 1987 to 1990 for the City of Lambertville, and eventually joined the West Amwell Fire Company. Ron was a Founding Member of the Lambertville Board of Fire Commissioners, serving as its Chairman for many years. He received numerous awards during that time, including being named the Schaeffer Brewing Fireman of the Year. Despite the many accolades, he was most proud of saving a young boy's life from drowning many years ago.
Religion was a big part of Ron's life. He was a long-time member of the Sandy Ridge Community Church in Stockton and the Birch Harbor Baptist Church in Birch Harbor, Maine.
As busy as he was, Ron treasured spending time with his family, especially his 16 grandchildren and 15 great-grandchildren, who will all miss his incredible presence.
In addition to his parents, Ron was predeceased by his wife, Nancy Jean Hann in 2014, his daughter-in-law, Christina Lee Tillett in 2016, and his son, Dennis Tillett in 2018. He is survived by his four sons, Ronald R. Tillett Jr., of Lambertville, Jeffrey L. and Betty Tillett of Palmyra, Orville R. Tillett of Lambertville, and Scott D. and Diane Tillett of Ringoes, N.J., his daughter-in-law, Annette Tillett of St. Cloud Fla., his brother, Richard Tillett of Langhorne, his two sisters, Janet Lindeman of Shelby N.C., and Sally and Floyd Eckard of Fairless Hills, and his sister-in-law, Doris Westphal of Newtown. He is also survived by his 16 grandchildren, Cynthia (Jason) Strauss, Ronald R. Tillett, III, Jeffrey (Amy) Tillett Jr., Jennifer (Matt) Craig, Joshua (Sarah) Tillett, Brittany (Michael) Jaczuk, Jamie Young, Kyle Tillett, Jonathan Tillett, David Tillett, Daniel Tillett, Amanda Tillett, Ashley Tillett, Chase Brackeen, Madeline Brackeen, and Eva Tillett, and his 15 great grandchildren, Madison, Emily, Julia, Abagail, Ryan, Tyler, Wesley, Rachel, Paige, Carter, Jake, Michael, MacKenzie, Cheyenne, and Trevor.
Calling hours will be on Tuesday, July 24, from 3 to 7 p.m. at Holcombe-Fisher Funeral Home, 147 Main St., in Flemington N.J. Immediately following will be a Firemen's service at 7 p.m., and a funeral service with Military Honors at the funeral home. Interment will be private in Holcombe Riverview Cemetery.
In lieu of flowers, contributions may be made to the Sandy Ridge Community Church, 47 Sandy Ridge Rd, Stockton, NJ 08559 or the Birch Harbor Baptist Church, PO Box 63, Birch Harbor, Maine 04613.
For further information or to leave an online condolence, please visit www.holcombefisher.com.
Information provided by Holcombe-Fisher Funeral Home.