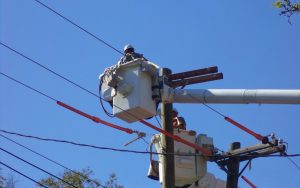 The City of Lambertville today announced that the recently completed energy auction conducted through the South Hunterdon Renewable Energy Cooperative (SHREC) resulted in the selection of electricity suppliers that will save city government 13% in electric costs for its buildings and 14% on street lighting over the next two years.
East Coast Power & Gas was selected to power Lambertville city government buildings because they were the lowest responsible bidder, according to the city.  The company will supply electricity to residents at the rate of 7.85 cents per kilowatt hour— about 13% less than JCP&L would charge.
TriEagle Energy, the Lambertville's current electricity supplier for street lighting, will have its contract extended for an additional two years because they came in substantially lower that the best auction price at 5.34 cents per kilowatt hour—about 14% less than JCP&L would charge.
Lambertville officials said the city continues to save money on its electric bills by making its purchases through SHREC, which enables it to reap the benefits of competition as well as the economies of scale made possible by joining together government entities for increased purchasing power. The auction for providing electricity to city buildings included West Amwell and the Lambertville Municipal Utilities Authority, along with the City of Lambertville.
"We are pleased to be able to generate substantial savings on electricity, both for street lights and government buildings, better enabling us to hold the line on municipal taxes," said Lambertville Mayor Dave Del Vecchio. "We continue to work hard to seek cost savings wherever possible."