Lambertville Orders City Restaurants to Recycle Food Waste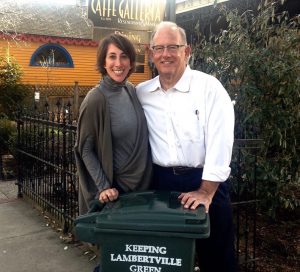 The City of Lambertville on Wednesday announced the expansion of its Third Can program, a food waste composting and recycling initiative, requiring all commercial establishments in the city that produce food waste to participate.
Food waste represents 15% of the city's waste stream, officials say.
"Expanding Third Can is win-win-win: good for taxpayers, our environment and our restaurants," Lambertville Mayor Dave Del Vecchio said.
Restaurants that voluntarily participated in Third Can have realized hundreds of dollars in savings on trash pick-up, according to the city. Expanding the program will enable Lambertville to increase its overall recycling, which already removes more than 1,000 tons from the waste stream annually, saving substantial money and protecting the environment.
"It's hard to be not supportive, because we were one of the first to to recycle," said Lisa Nichols, co-owner of  DeAnna's Restaurant at 54 N. Franklin St. in Lambertville. "It's a no-brainer — we're totally environmentalists here, and I don't know why anyone wouldn't want to participate."
Nichols says co-owner and Head Chef DeAnna Paterra agrees.
"We know that restaurants have a lot of food byproducts, so it makes sense to separate it," Nichols observed. "We cut our trash pick up in half."
A spokesperson for the Inn of the Hawke at 74 S. Union St. also expressed support for the Third Can program.
"We're grateful it's going on," they said
The City of Lambertville is providing trash bags, cans, and instructions on what to compost. Restaurants and other commercial food businesses will be charged an annual fee of $90, say officials.
Lambertville introduced the Third Can program for residents on a voluntary basis in 2014. In 2016, the program was expanded to include the Lambertville Public School and some local restaurants, who also participated voluntarily.
Save
Save