New Hope-Solebury Community Urged to Attend Substance Abuse Prevention Meeting Aug. 31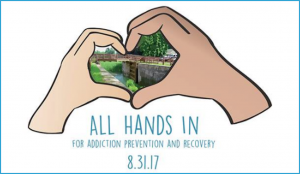 New Hope-Solebury Cares is asking community members to put "All Hands In" to support local substance abuse prevention and recovery efforts by attending their "call to action" meeting on Aug. 31.
Held in conjunction with International Overdose Awareness Day, the event will be jointly hosted by NHS Cares and Friends MATTer, a local non-profit organization working to prevent addiction recovery relapse.
Featured speakers include Bucks County District Attorney Matt Weintraub and Congressman Brian Fitzpatrick, along with NHS Cares Board President Chuck Wilson, and Friends MATTer President and Founder Merrilee Scott.
Attendees will participate in a "tribute activity" for friends and loved ones, and join round table discussions to help shape organization plans for the upcoming year.
"This event will be inspiring, and bring the community together.," said NHS Cares Executive Director Andrea de la Flor. "We have an amazing community of people who are quick to offer support in times of need. We want to harness that love and care for our community and for each other, and turn it into collective action to address this epidemic."
Reverend Rick Vinson of Trinity Church in Solebury will serve as a round table discussion facilitator.
"All Hands In" will be held on Thursday, Aug. 31, from 7 to 9 p.m., at the Event Center by Cornerstone in New Hope's Eagle Fire Company facility, 46 N. Sugan Road. Email RSVPs are appreciated, say organizers.
New Hope-Solebury Cares is a nonprofit organization focused on youth substance abuse prevention.
Save
Save