Santa heads to Eagle Fire House in New Hope for breakfast Sunday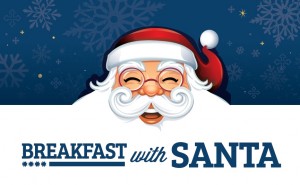 Santa Claus, that merry old soul and purveyor of pancakes, is making his way via reindeer-drawn sled to the New Hope Eagle Fire House this Sunday for his annual breakfast with the local kids.
In addition to the requisite holiday flapjacks, the special breakfast also includes eggs, hash browns, sausage and juice — all served up family-style by FBLA elves and other Eagle volunteers. The doors open at 8 a.m., and Santa arrives at 9 a.m.
The breakfast is priced at $7 for those aged 8 and up; $4 for kids aged 4-7; and munchkins 3 years old and under eat for free!
New Hope Eagle Fire House is located at 46 N. Sugan Road, near the intersection with Route 202.