The Outlaws at Havana in New Hope Nov. 15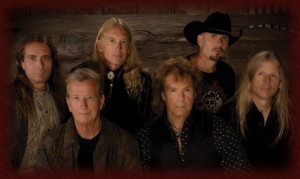 The Outlaws with Waylon Speed will be playing to a standing room only crowd for one night and one night only: Friday, Nov. 15, at 8 p.m. General Admission will be $45.
"For The Outlaws, it was always about the music. For 40 years, the Southern Rock legends celebrated triumphs, endured tragedies and survived legal nightmares to remain one of the most influential and best-loved bands of the genre. Now The Outlaws return with new music, new focus and an uncompromising new mission: It's about a band of brothers bound together by history, harmony and the road. It's about a group that respects its own legacy while refusing to be defined by its past," says the band's bio.
"History lesson: Formed in Tampa in 1972, The Outlaws – known for their triple-guitar rock attack and three-part country harmonies – became one of the first acts signed by Clive Davis (at the urging of Ronnie Van Zant) to his then-fledgling Arista Records. The band's first three albums The Outlaws, Lady In Waiting and Hurry Sundown – featuring such rock radio favorites as "There Goes Another Love Song", "Green Grass & High Tides", "Knoxville Girl" and "Freeborn Man" – would become worldwide gold and platinum landmarks of the Southern Rock era. Known as 'The Florida Guitar Army' by their fans, The Outlaws earned a formidable reputation as an incendiary live act touring with friends The Allman Brothers, Lynyrd Skynyrd, The Marshall Tucker Band and The Charlie Daniels Band as well as The Doobie Brothers, The Who, Eagles and The Rolling Stones."