Renowned musician Leon Redbone dies in New Hope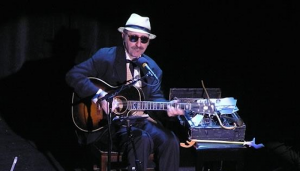 Famed musical performer Leon Redbone, 69, passed away in New Hope on Thursday, according to his family.
"It is with heavy hearts we announce that early this morning, May 30th, Leon Redbone crossed the delta for that beautiful shore at the age of 127," they announced on his website. "He departed our world with his guitar, his trusty companion Rover, and a simple tip of his hat. To his fans, friends and loving family who have already been missing him so in this realm he says, 'Oh behave yourselves. Thank you…and good evening everybody.'"
Redbone will be remembered for his performances of classic blues, jazz and ragtime tunes with his idiosyncratic voice, Panama hat and sunglasses. He began playing at Toronto night clubs and folk music festivals in the 1970s, and met Bob Dylan at the Mariposa Folk festival in 1972. Dylan mentioned Redbone's performance in a Rolling Stone interview, and they wound up featuring him in an article. Redbone was introduced to American audiences in two performances during the first season of "Saturday Night Live."
Redbone retired in 2015 due to failing health, and had been in hospice care. He lived at a farm on Aquetong Road and had performed at John and Peters many times.
He is survived by wife Beryl Handler, daughters Ashley and Blake, and three grandchildren.