'Little Women' at Music Mountain Theatre hits big with great ensemble work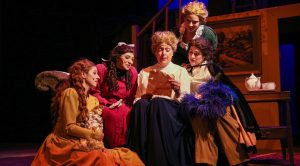 By John Dwyer
I once heard an Italian chef say that a good cook can create a meal with whatever is on hand in the kitchen. In fact, that is what happens in so many European kitchens, both in homes and restaurants, and the very best dishes come out that way. If you look at all the fine talent in the ensemble company at Music Mountain Theater and then think, "What fine dish could I concoct with all the ingredients at hand?" then one delicious, mouth-watering dish would be called "Little Women."
This is such a good show for this ensemble. When I heard that the joyful, yet feisty, Jill Palena was on board as Jo, I thought, "perfect casting." All of this got multiplied in spades as each performer came out and showed talent that made me think that each of them were perfect for their roles. This is the joy of having a true ensemble theater which has a dependable base to draw from. Here is a vehicle that is great for the strong females that are present in this troupe.
The 2005 show was adapted from the novel with  a book by Allan Knee, lyrics by Mindi Dickstein, and music by Jason Howland, and is based on the Louisa May Alcott story, "Little Women," beloved by so many children and adults. It has been made into a movie several times.  I remember reading it as a child, and then "Little Men."
It is the story of the four March sisters (Meg, Jo, Beth and Amy) and their mother, Marmee, during the Civil War. It takes place while their father is off to war. He is a chaplain. The family has lost their money, but they are doing the best they can. This story is fiction, but if you read any Alcott biography, you will note many autobiographical moments throughout the tale. Alcott really does seem to be Jo. And just as an interesting aside, Louisa May Alcott has a local distinction of having been born in the Germantown section of Philadelphia.
It was a popular book when it came out, as it was a work of substance that seemed to direct itself at young women. It was not standard fare. It was quite "feminist" and extolled the intelligence of girls and their abilities. Alcott was raised by a mother who believed women were not treated fairly, and Alcott's work reflected that. She was great friends with Emerson and Thoreau — mentioning this only to give a sense of the weightiness of what she had to say about women in the world while she spun a good tale.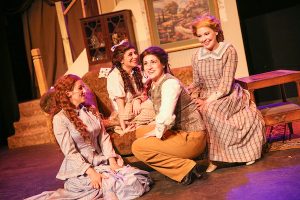 In "Little Women," the four sisters retreat to the attic and play act the stories that sister Jo concocts for them. They are, as young girls, the four musketeers and their bond, especially to Jo, is inviolable. As boys come into the picture, the bond seems to shift ever so slightly. The oldest Meg falls in love, which seems a mystery to the next eldest, Jo — an equal among equals. She is not to be subjugated by marriage, which is not fully stated, but implied. If the term were available, she might say she was a "feminist," but in the 1860's, she would just say with a bit of swagger that "she was as creative and smart as anyone." A few men fall in love with her, and she falls in like with them. There are issues with Beth and her health. Little sister Amy looks for the spotlight, money and status. In many ways, Amy is the antithesis of Jo. The mother, Marmee, is the loving matriarch, who has much to be proud of, as she molds little women into their better adult selves.
Lauren Bader is excellent as Meg, the stalwart and dependable elder sister. I saw TaylorRae Carter as Beth. She was only on for a couple days, as she is understudying the role. What a lovely performance. Beth March has health issues and Carter gave the sweetest combination of vulnerability and charm. With that sweet delicacy, she beguiles in her solos with Laurence in "Off to Massachusetts" and "Some Things are Meant to Be." I am told the regular player, Lyndsey Schaefer, is great in the role, as well. It is a plum part. Donald Hallcom is superb as the wealthy neighbor Laurence. Always full throated, deep and sonorous, his is that rich voice that would seem at home at New York City Opera, as much as anywhere else.
Colby Langweiler delights as the irritating sister Amy. The arc of her story as she matures from malevolent child to a more caring but still shallow socialite is very well played by this excellent actress. Anna Hentz has never been better as the proverbial mother hen, Marmee. Whether in words or song, she exudes the love only a mother can have for her daughters.
Shelly O'Hara Tapp as Aunt March is the perfect foil for Jo (Jill Palena) in their scenes together. She, on every level, hits the right notes. It is the sweet and sour combination of crazily sweet Jo confronting her wealthy but sour aunt. Their song "Could You" was given a seamlessly honest and extremely entertaining rendition. Though money may not be everything, Aunt March's money propels an early plot point in the show and comes back later in regards to a couple of other issues.
Strong women need strong men in their lives. When you see the name Karl Wiegand in a program, you know there will be some excellent acting onstage. He is one of the best male actors of the troupe, having done the gamut from Paul in "A Chorus Line" to Jud in "Oklahoma." He again gives an excellent performance as the love interest, Laurie, in "Little Women," fleshing out more from the script than one might expect. He is uniquely gifted in breaking down and making plain a character's thoughts and motivations. Another fine performance from Weigand. Now is the difficult task for finding new superlatives for Jeff Stephens, who is another fine actor. He appears as John Brooks, Meg's beau and eventual husband. A very honest and nuanced performance by Stephens.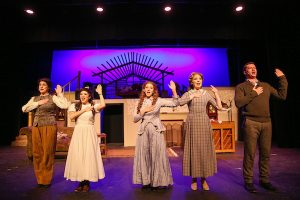 Rhett Commodaro is touching as Professor Bhaer. "How I Am" is moving, but his duet with Jo in "Small Umbrella in the Rain" brings moving to a new level. Both vocally and emotionally, two voices and hearts are weaved together. Beautiful and textured.
Jill Palena is the glue that holds it altogether. Book, movie and musical are written that way, and require  a charismatic actress to pull it off. If you are familiar with her work, you would know that this is the perfect role for Jill. During "An Operatic Tragedy" and at different points in the show, characters that Jo writes about are presented onstage and sing. While other actors sing and act the scene,  Palena draws all eyes to her. Her pantomime of her tale is as good, if not better, than the actors singing and dancing. If you can sing, act, dance and do mime, does that make you a quadruple threat? If so, that is Palena. The last song of Act One was called "Astonishing." It was inspiring, and may as well be the term that encapsulates Palena. Astonishing. This is one of the best shows she has done.
For those, like I, who saw the show on Broadway, this simple story is a family show, whose old fashioned roots are better served outside of the cacophony of the Great White Way. This show of "An All American family, whose father is away at war and whose small town heroine has big dreams" is reflected in the setting that you exit into. I was less impressed with the basic show, regardless of Sutton Foster in the lead, than I was with it now. I am not talking production. I am talking about show. You see this and then exit into cabs about to run you over. That juxtaposition, that dissonance does not make for the perfect experience for the show. I am saying that certain shows will fare better when presented to certain audiences at certain theaters. It is not a matter of sophistication. It is a matter of psychology. Basic Americana is best served from a place where you are not dancing with taxis but, more appropriately, leaving going into town with red, white and blue bunting covering the Victorian homes of Lambertville after Memorial Day.
To reiterate, Jill Palena is amazingly good — it is some of her best work — as is the ensemble. Nothing can be this good without great direction. Kudos to Jordan Brennan. Costumes were beautiful, natch! Brennan is famous for that. The fancy dresses and gowns of Aunt March and Amy were especially lovely.
This perfectly done musical is being served in the right place at the right time. And it is delicious. Pull in and have the full meal. It will be very satisfying.
The show goes to June 2, and tickets are available online.