St. Philip's Church in New Hope hosts 'Simple Gifts' folk concert May 12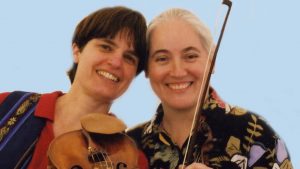 The musical gifts of ethnic-folk duo Linda Littleton and Karen Hirshon are anything but simple. Yet somehow their award-winning sound feels effortless, as they switch seamlessly among 12 different instruments and as many musical traditions.
Performing together as Simple Gifts, Littleton and Hirshon will hold a concert followed by a public music jam at St. Philip's Episcopal Church, 10 Chapel Road in New Hope, on May 12 at 3 p.m.
The duo has appeared at the Smithsonian Institution, the National Theater, Longwood Gardens, the Philadelphia Museum of Art, the Philadelphia Folk Festival and on PBS. Their performances typically draw on many different musical styles and traditions — a klezmer freilach slides into a Balkan dance tune, which morphs into an Irish jig, followed by an American reel.
"Karen and Linda are as renowned for their talents as musicians as they are for their generosity in sharing their knowledge with others," said Reverend Michael Ruk, rector of St. Philip's. "We encourage anyone interested in music — in particular, fellow musicians — to attend the concert and jam."
The performance is part of St. Philip's ongoing effort to support the arts in the greater New Hope area with hosted readings, concerts and the display of artwork by local artists. Voluntary donations will be accepted to support the musicians and the continued community outreach of the church.