Passing of Ty Alexander Brown of New Hope
Ty Alexander Brown, a lover of life and music, passed away suddenly on Feb. 25 at age 50.
Born in Oklahoma, he came to Lambertville in 1992, lived at Goat Hill Overlook for awhile, then made New Hope his home until 2012.
A lifelong friend to many, Ty was known for his quick wit, biting sense of humor, passion for music, and intense love affair with Frisbee golf.
We do not grieve his passing, for he would say "oh shut up!" or "quit it!" (add a few expletives wherever you see fit). Instead, we celebrate his life and the many friendships he developed throughout the country. In fact, his friends joked he should write a book about "couch surfing," yet as dear friend Andy Atkinson said "why write the book? Let your friends write it!"
Ty loved all people. Whether you were a traditional Joe or a societal "misfit," he loved people.
Those who know him best remember him for late-night philosophical conversations, impromptu jam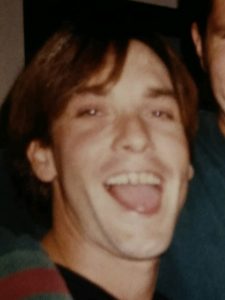 sessions and intricate finger-picking — and probably a few too many bad decisions (but hey, that's part of the fun).
He leaves behind scores of friends and family, all of whom will miss him dearly and cherish the memories that will remain in their hearts: a daughter, Kelsey; an older sister, Robyn and her husband, Toby, and younger brother Brady and his wife Michelle; a handful of nieces and nephews: Zach, Justin, Lisa, Jeffrey, and Brycin. He joins his parents, his brother Doug, and nephew Pierce, in that big deluxe apartment in the sky. If we were to name all of those who will miss him – blood and bond alike – it would be longer than the highly-anticipated publishing of "Couch Surfing."
A celebration of his life will take place later this year in June, when his ashes will be spread near his beloved Delaware River (which held so many incredible memories for him and his friends). In lieu of flowers, please frequent one of the many establishments he called home and have a drink in his honor: Martine's, John & Peter's, Fran's Pub, the Landing, or Havana. Or, you can go to the wing dam and celebrate in ways Ty would see, and smile down at you.