Lambertville-New Hope Winter Festival comes to town starting Jan. 19
Lambertville-New Hope Winter Festival is back again to provide a fun-filled winter break for residents and visitors of all ages from January 19-27.
Now in its 22nd year, the festival kicks off Saturday, Jan. 19, with the popular Fire & Ice Ball featuring music by DJ Dwayne Dunlevy, along with spectacular live entertainment, lite faire, an ice bar, energy readings, fire ceremony and prizes for themed gala attire.
Also on Saturday is the Revolutionary Pub Crawl beginning at 12:30 p.m., followed by an After Party from 4 to 7 p.m.
Other events and family activities during the nine-day festival include the Blues BBQ and NFL playoffs, the Inn-to-Inn Dinner and House Tour, our Winter Walking Food and Shop Tour, the "Jersey Shore" event and dinner at Karla's Restaurant in New Hope, Magical Musical Pub Crawl, and Beef 'n Brew.
Also, don't miss the Music Mountain Theatre event on Jan. 26 featuring a special children's stage production of "The Snow Queen's Frozen Adventure." along with the Tucker Tales Puppet Show-Cirkus and the Mad Science Slime Booth.
John Danaher and the Walking Flukes will warm up Winter Festival with a free performance Sunday, Jan. 13, from 1 to 4 p.m. at Triumph Brewery in Union Square.
And this year's Winter Festival Concert will be a fu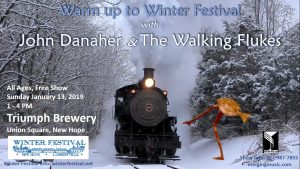 n-filled, multi-media event featuring storytelling, music and memories from one half of two iconic duos from the sixties, Peter Asher of Peter and Gordon and Jeremy Clyde of Chad and Jeremy.  Together, they claim 30 Billboard Top Hits, including "A World Without Love," "I Go to Pieces," "Lady Godiva," "Yesterday's Gone," "A Summer Song," and "Everyone's gone to the Moon."
Don't miss this special opportunity to hear the stories behind the lives and music of these two legendary duos in a multi-media, interactive and intimate setting on Friday, Jan. 25, at 8 p.m. at the New Hope Winery.
On the food and beverage side, the Lambertville-New Hope Rotary hosts its annual Beef 'n Brew on Saturday afternoon, Jan. 26, at the Triumph Brewing Company in New Hope.
Later that evening, New Hope Park & Recreation is hosting the first ever "A Cappella Extravaganza." Local colleges will compete to win cash prizes, and the New Hope-Solebury High School choir will sing for us during intermission. Price of admission for the event includes pizza, salad, and dessert.
Topping off Winter Festival's nine days of fun and games is the spicy hot Chili Cook-Off competition at Triumph Brewing Company on Jan. 27, 1-4 p.m., featuring some of the tastiest, tangiest and most original chili created by local restaurants and accompanied by local beers. Vote for your favorite chili in the People's Choice Award competition and stay for the trophy presentations and for the Judge's Choice winners. The competition and the chili will be lively and tickets get sold out quickly, so don't delay.
Please be sure to visit Lambertville-New Hope Winter Festival online for the complete schedule of events and ticket information.