The New Hope Historical Society will present "A Tribute to Odette's" on Jan. 26 during the Lambertville-New Hope Winter Festival.
The event will begin with a walking tour at 2 p.m. led by Roy Ziegler, New Hope Historical Society board member, past president, and author. The walk will trace Odette Myrtil's career in New Hope from her beginning as the manager of the Playhouse Inn to the opening of her popular and iconic Chez Odette.
At 3 p.m., pianist Bob Egan and vocalist Cecily Laidman will recreate the magic of Chez Odette at the "Chez Parry" Mansion in New Hope.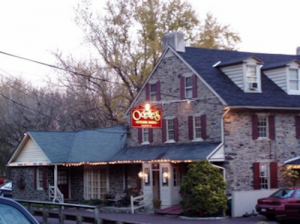 Musician/actress Odette Myrtil created the original club in her own image over the 15 years that she operated the cabaret mecca. Born in Paris, Myrtil was as happy supervising the creation of her famous French onion soup and escargot in the kitchen as she was at the piano bar, singing and playing her violin for her adoring fans. In fact, she was so popular that local folks even tried to elect her Mayor of New Hope in 1965.
Odette Myrtil left her namesake restaurant in 1976 and passed away two years later in Doylestown. The old place became known as Odette's Restaurant, offering fireside dining along the river, and there was still a piano bar. But only Odette's spirit remained.
The walking tour will begin on the back lawn of the Parry Mansion at 2 p.m. sharp. Refreshments will be served. Admission to the event is free and open to the public, and refreshments will be served.  Sponsored by Nektar Wine, Beer and Whiskey Bar, and the Riverhouse at Odette's.