Odette's building in New Hope to be moved Oct. 24
The historic Odette's Restaurant building at 274 River Road in New Hope will be moved to the American Legion property at the corner of Riverwoods Drive and South Main Street on Wednesday.
Developer Gateway to New Hope LLC is moving the historic stone structure to make way for its planned Riverhouse at Odette's conference center.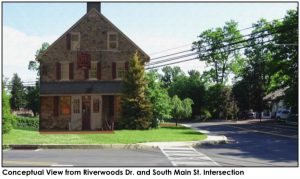 The Oct. 24 operation will necessitate a brief redirection of traffic.
"[It] will require a full closure of River Road/Main Street (State Route 32) from Aquatong Road to Bridge St. from 9 a.m. to 3 p.m.," advised New Hope police in a statement. "Traffic will be detoured via Bridge Street (State Road 179), Rt. 202, and Aquetong Road. There will be no passage into the borough by way of South River Road, nor from Windy Bush Road."
"Several homeowners in close proximity to the relocation activity will experience interruption in PECO and Verizon services – those property owners have been notified by PECO and Verizon," the statement continued. "There will a be a 200-foot perimeter barricade surrounding the relocation activity area, allowing only authorized personnel to enter the activity area. Vehicles, pedestrians, or spectators will not be authorized to enter the relocation activity area."
The circa-1784 tavern will be relocated via River Road to the American Legion property using 15 remote-controlled hydraulic dollies. The dollies connect to the steel structure beneath, and become a sort of self-propelled trailer, steered by remote control.
"We had to shim between the beam and stone wall with wooden shims and mortar grout to create a solid bearing surface to lift on," explained Sales Manager Mike Brovont of Wolfe House & Building Movers of Bernville.
The building was then lifted up, and steel girders placed beneath.