PHOTOS: Proposed Relocation of Odette's Restaurant to American Legion Property in New Hope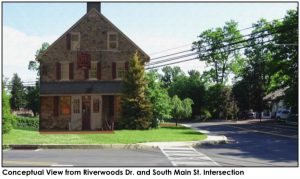 Pennsylvania Bureau of State Parks representatives presented a proposed site map and rendering to New Hope Borough Council Tuesday night illustrating their agreement with Odette's Restaurant site developer Gateway to New Hope LLC on "finding a way to re-purpose this [Odette's] building."
Gateway originally wanted to bulldoze the historic 1784 structure to make way for its planned "boutique" conference center, but under the agreement with the Bureau of State Parks, it will move the building to the north end of the American Legion parking lot on New Street in New Hope within one year, and ultimately relocate the landmark edifice to the southern tip of the property.
Odette's will be out of historical context in proximity to that section of the Delaware Canal, but at least it's being saved from destruction, say many observers.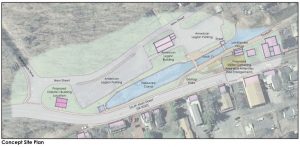 Meanwhile, state officials haven't decided whether it's more economical to restore only the outside of the building and construct additional administrative and exhibition space in a nearby lot ("Plaza Improvements"), or restore the entire building to usable condition.
A representative from Friends of the Delaware Canal expressed the group's desire that the center of educational and tourism activity remain at the Locktender's House and its accompanying annex, and that the plaza area be developed, as originally proposed.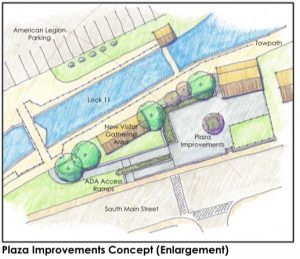 Unfortunately, working mule barges on the canal are not on the immediate horizon.
"We haven't yet come up with a viable operator," said the State Parks spokesperson, who is hoping that the improvements being considered for the Delaware Canal near Lock 11 will make the concession more attractive and viable for potential licensees.
Save
Save
Save
Save
Save
Save
Save
Save
Save