Stoney Hill Road in Solebury Township to close weekdays for repair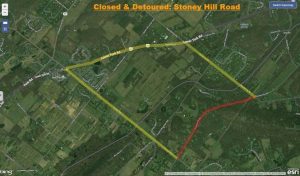 Stoney Hill Road is scheduled to close weekdays between Aquetong and Street roads in Solebury Township on Tuesday, Aug. 21, through Thursday, Aug. 30, from 7 a.m. to 4 p.m., for base repair, the Pennsylvania Department of Transportation (PennDOT) announced Tuesday.
Motorists will be directed to use Street Road, U.S. 202 (Lower York Road) and Aquetong Road during the closure. Local access will be maintained up to the work zone, and the schedule is weather dependent, according to PennDOT.
Motorists can check conditions on more than 40,000 roadway miles by visiting www.511PA.com, downloading the 511PA free app, calling 5-1-1, or following regional Twitter alerts accessible on the 511PA website.