'Grease' is the Word at Music Mountain Theatre in Lambertville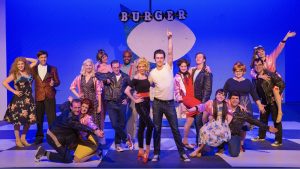 By John Dwyer
"Grease" is an audience favorite. It is done everywhere. And that is stating the obvious.
But the talent at Music Mountain Theatre is right for this musical. It's ideally cast with 20-somethings playing teens, as there needs to be a depth of talent that would be lacking normally from teenagers, and because it is a nostalgia piece with a fair amount of irony that gets lost and not "italicized" with a wink when given by someone who is actually living a barely post-pubescent life, filled with adrenalin and hormones.
"Grease" has been around since 1971. Written by Jim Jacobs and Warren Casey about high school culture and the greasers of the 1950s, with a keen ear replicating the sound of that time, Jacobs and Casey created new songs that not only got on the top 40 charts, but also the original cast Broadway and film soundtrack albums became best sellers. These songs include "Summer Nights," "Look at Me, I'm Sandra Dee," "Hand Jive" and "We Go Together," just to name a few.
The plot is about the love between Sandy Dumbrowski and Danny Zuko, students at Rydell High School in 1959. Sandy is new to Rydell High and is just getting over a summer fling that was unresolved. Little does she know that the summer fling was with a student there at Rydell. It was Danny Zuko, who had told her in the summer that he went to a private academy. Neither expected to see each other again, until Sandy transferred to Danny's real high school, Rydell High.
Sandy falls in with a group of girls called "The Pink Ladies." Danny is part of another clique, called "The Burger Palace Boys." The Pink Ladies support the Burger Palace Boys, who love their cars, love their burgers and love their music and women, but in no particular order.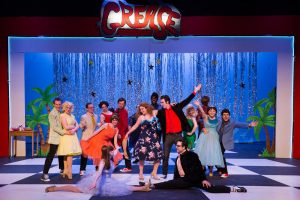 Danny, when he sees Sandy again, does not admit to knowing her, so he can seem cool in front of the Boys. This hurts Sandy, and she gets invited to a pajama party to go over what just happened, and to talk about boys, cigarettes and pierced ears, over a little wine. The question for the show is whether, in spite of all the teenage angst, Sandy will find love with Danny. The obstacles of pride and peer pressure are the same now as then. Only the music, clothes and slang have changed. The universal story of boy meets girl, loses girl, and "will they get back?" is one that never tires. And, in this case, is supported by a strong list of unique characters.
What makes this "Grease" special are the leads and the ongoing excellence from director and choreographer couple Louis Palena and Jordan Brennan. Both are excellent directors and choreographers, and they often work in tandem, sharing both responsibilities. This is a tight production with a fun set and, again, just like in "Beehive," some fun costuming.
Wholesome Sandy and leather-jacketed tough guy Danny are played with the needed innocence and swagger respectively by the wonderfully talented Jaime Geddes and the equally amazing Harrison Pharamond. Geddes has been in several shows at Music Mountain and, in each of them, has been impressive. A triple threat actress who can sing and dance well, it is a safe bet that any show with her will be good. Phararmond makes his Music Mountain debut, and is everything a Danny Zuko should be. Of course, Sandy would fall for Danny. Pharamond makes him attractive, vulnerable and tough, all at the same time, and makes it believable. Also a triple threat when he sings "All Choked Up" at the end of act two, he shows an incredible vocal range and, with the help of a tight ensemble, brings the show to its finale.
This ensemble could not be better. Consider that a huge compliment. It is the tightness of this production that makes it exceptional. Just out of the gate, you are introduced to the kids at Rydell, each having their own distinct personality. I had seen Lauren Brader in several other performances at Music Mountain, but did not recognize her as Marty, the sexually aggressive but oddly innocent girl about town. Hysterically funny, I looked at my program to discover that Brader was the actress. Kudos to her.
Tough kids Rizzo and Kenickie are played by Ali McMullen and Karl Wiegand. McMullen plays the tough girl with a tender heart well, and is excellent in the very effective, moving song "There Are Worse Things I Could Do." Kenickie (Karl Wiegand) shines in the song "Greased Lightening," as he extols the virtues of his souped-up speedster.
Jill Palena is the sweet, loveable and vacuous "Frenchie," with the lofty ambition of being a beautician. With Teen Angel (Louis Palena) and a heavenly array of back up singers, her plight gets its own moment in "Beauty School Dropout."
Toni Thompson is as good as it gets as Miss Lynch, the English teacher who is part disciplinarian and part hip old chick. Her raspy delivery, her look, her walk — all these elements go into the hysterically funny characterization that Thompson has created for us.
All cast members are so good at telling this story, and it feels like the first time you have heard it. In addition to the aforementioned, the cast includes Tom Farber (Sonny), Morgan Tarrant (Jan), Rhett Commodaro (Roger), Matt Robertson (Doody), Madison Kotnarowski (Patty), Jordan Brennan (Eugene), Chelsea Connelly (Cha Cha), Tim Chastain (Johnny Casino) and Sharon Rudda (Connie Q-Tip).
But that is why acting is paramount, even in musicals. You can sing it. And they sing the heck out of these songs. You can dance it, and they are tearing up the dance floor. But, more than anything, they are telling a story, and they are living the 50s at Rydell High.
As you leave the theater, you will be humming songs and have a great desire to buy a leather jacket.
Performances continue through April 22, and tickets are available online.