Lambertville Moves to Halt PennEast Pipeline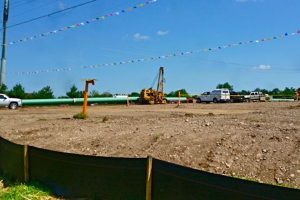 The mayor and city council of Lambertville unanimously adopted two resolutions on Monday aimed at stopping the proposed PennEast Pipeline.
The PennEast Pipeline is a proposed project by PennEast Pipeline Company, a consortium of six energy companies, to move natural gas from the Marcellus Shale region in Pennsylvania to New Jersey.
Lambertville says the proposed 116-mile pipeline poses a threat to the city's water supply and to the Delaware River.
"We are leaving no stone unturned in our battle to defeat this ill-advised pipeline," said Lambertville Mayor Dave Del Vecchio. "Now that most of the decisions going forward will be made by New Jersey and regional agencies, we are confident that the fate of this project will be decided on the merits. And the merits favor us."
The first resolution approved by the city calls for a rehearing of the project's approval by the Federal Energy Regulatory Commission (FERC). Lambertville formally requested the rehearing because the necessary approvals from the New Jersey Department of Environmental Protection (NJDEP) and the Delaware River Basin Commission are not in place, according to city officials.
"The city does not expect FERC, which tends to rubber stamp pipeline proposals, to reverse their decision, but requesting the rehearing preserves the city's right to sue, among other advantages," they said.
The second resolution approved by city leaders calls on NJDEP to strengthen the state freshwater wetlands rules, which were weakened by the Christie administration, according to the city. Lambertville is asking for the previous standards to be reinstated.

"The State of New Jersey, through the NJDEP, should strengthen the Freshwater Wetlands Rules to protect against the following: destruction of our pristine waterways, permits without oversight, permits for 10 years instead of 5 years, and raising the standards for water quality impacts to prohibit temporary disturbances that have lasting effects on wetlands, and limit the buffers and transition areas that used to be required for construction of pipelines," city officials said in their announcement.