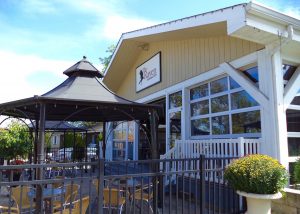 A silent partner brought in by Raven owner Steven Lau in exchange for a capital infusion used the New Hope resort club to "launder large amounts of cash from the unlawful activities of his tobacco business, then stole the Raven through a pattern of racketeering, including wire fraud, mail fraud, and extortion," according to a lawsuit.
The iconic Raven club/restaurant/hotel is located at 385 W. Bridge St., and will soon be listed for sale, according to sources close to the situation who requested anonymity.
Lau's complaint against former business associates Saumil Ambani, Sahil Ambani, Rajiv Ambani, Michelle Churchill, Jose Armando Martinez, and Megawholesale, Inc., among others, arises from the Racketeer Influenced and Corrupt Organizations Act (RICO), and is being heard in the United States District Court for the Eastern District of Pennsylvania.
After Lau received an agreement to buy the Raven on Christmas Eve 2014, a real estate agent recommended he meet with Saumil Ambani to discuss investing in the club, the action alleges. Like his brother Sahil and father Rajiv, Saumil Ambani is in the tobacco wholesale business, and agreed to provide Lau capital with to purchase and fund the Raven in exchange for 50% ownership, according to the lawsuit.
In July 2015, Lau received a conditional approval letter from Parke Bank for a Small Business Administration-backed loan for $4,325,000, which included $3.5 million for purchasing the Raven land and building, $525,000 for the business, and in combination of funds advanced by the borrowers, working capital of $107,000, along with $193,000 in closing costs, the lawsuit alleges.
Before closing at the end of July 2015, Saumil Ambani and brother Sahil signed a memorandum stating that in exchange for their funding $650,000 toward the Raven as a loan with 15% interest, the Ambanis would receive a 50% stake in the business, and Lau would manage the Raven's day-to-day operations, legal papers show.
Then, on Aug. 19, Saumil Ambani asked Lau about the percentage of cash sales flowing into the business, and "suggested that Lau not report all the cash proceeds from the Raven," instead distributing the proceeds among business members. Lau was surprised at the suggestion, the litigation states, and "refused to make such distributions."
Lau claims in his lawsuit that he discovered "Ambani was obsessed with two things: 1) hiding cash, spreading cash, paying for things with cash, and being paid with cash, and 2) avoiding taxes. Ambani was obsessed with these things because the company he and Rajiv Ambani own, Megawholesale, Inc., generates $100 million annually in tobacco sales, a substantial part of which is undocumented and unreported because Megawholesale encourages its vendors to pay in cash."
"With vast amounts of cash on hand from Megawholesale's unreported, undocumented, and untaxed tobacco sales," the complaint asserts, "Ambani is constantly devising new ways to launder Megawholesale's money, such as, in this case, injecting huge amounts of cash into companies he invests in, only to have the companies pay him even larger loan/interest payments each month that dwarf any profits the companies would generate without the loan/interest payments."
Lau's lawsuit also alleges that Ambani and the other defendants were trying to steal the Raven from him.
"Once it became clear to Ambani that plaintiff [Lau] did not intend to assist in his money laundering schemes (or simply because Ambani intended to do so all along), Ambani with the help of his cohorts, defendants Sahil Ambani, Michelle Churchill, Rajiv Ambani, Jose Armando Martinez, and [business entities] NHEI and Tollhouse, began to carry out his scheme to defraud plaintiff [Lau] and to steal the venture entities through a series of racketeering activity; namely extortion, money laundering, mail fraud, wire fraud, bank fraud, and access device fraud."
Lau's complaint says that Ambani and the others began to "illegally squeeze" him out of the Raven, initiating "several unauthorized and illegal capital calls beginning around May 18, 2016." The legal action goes on to assert that on July 5, Ambani and Churchill went to Lau's office and "handed him a letter purporting to remove plaintiff [Lau] as manager of the Bucks Entities [i.e. Raven]."
"If you attempt to fight this, I will ruin you," Ambani allegedly said. "If you try to fight this with an attorney, you will never win. You spend $10,000, I'll spend $20,000. You spend $50,000, I'll spend $100,000. You spend $100,000, I'll spend $200,000."
The next day, Ambani purportedly fired Lau, according to the litigation, Churchill sent an email initiating two further capital calls, and Lau was removed from the Raven's bank accounts, and denied access to its books and records.
Two days later, on July 8, 2016, Churchill was introduced to Raven staff as the new director of operations, according to the lawsuit, and "Ambani hired a new manager who worked, and continues to work, for a direct competitor of the Raven (located across the street), Defendant Jose Armando Martinez. Mr. Martinez advertises the competitor's events on the Raven's Facebook page, to the Raven's mailing list, and directly to the Raven's clientele, and since Martinez began working at the Raven, the Raven's usual Friday and Saturday night traffic has migrated to the competitor and revenue has dropped dramatically."
In a phone call by the Free Press to the Raven seeking comment, an unidentified employee said, "Armando's not here, he's in California. Saumil is never here."
A lawyer for the defendants, however, was adamant in disputing Lau's claims.
"We categorically deny each an every one of those allegations," said attorney Jeffrey Ogren. "We filed comprehensive motions to dismiss all the claims pending in federal court, and the judge has stayed all discovery while he's working on them and reviewing them to see if matter should proceed. All the defendants filed motions to dismiss."
"We do not agree with his [Lau's] facts," Ogren continued. "We agree that there was a business dispute between the two men, but it's a simple business dispute — the courts are filled with them. To take a business dispute and attempt to recast it as a criminal matter…it's not a criminal organization, its a business dispute."
Ogren said the allegations about Megawholsale are also without merit.
"Completely untrue," he asserted. "The tobacco business is not illegal. It's completely false."
 "I stand by the allegations made in the Federal RICO action against Saumil Ambani and the other defendants," said Lau in a statement. "I have faith in our judicial system and trust that the truth will prevail."
Watch for additional reporting on Lau's lawsuit and the sale of the Raven.