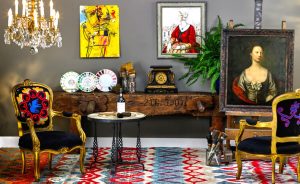 Rago Arts and Auction Center in Lambertville will be holding another of its popular "remix" auctions, pairing a full day of classic furnishings with a second day of Modern designer furnishings in one weekend, April 7 and 8.
Downtown pieces of mid-century modern and 21st century design will sell side-by-side with period furnishings, urbane antiques, heirloom silver, and compelling art, staged and photographed together in designer room settings.
"Remix is about how people like to decorate today," explained Rago Design Director Arlen Sam Brown. "They want rooms that are both stylish and personal, not overly planned and unvarying. They want pieces to come together like a group of fascinating people at a great party, unconfined by a decade or design period."
Buyers seeking American, English, Continental and Asian selections will not be disappointed, as will afficianados of contemporary design from America, Italy and Scandinavia. "Remix: Contemporary + Classic" will also feature silver from makers as diverse as Tiffany & Co., Omar Ramsden, William Spratling and Georg Jensen; singular accent pieces; portraits, landscapes and abstract art; sculpture and a dash of the unexpected, according to Rago.
The catalog for Remix: Contemporary + Classic will be online on March 16. Exhibition begins March 31. Consignments are being accepted through February.
Located at 333 N. Main St. in Lambertville, Rago is the largest auction house in New Jersey, with $33 million in annual sales. For those unable to attend, telephone/absentee bidding is available at 609.397.9374, as is online bidding.