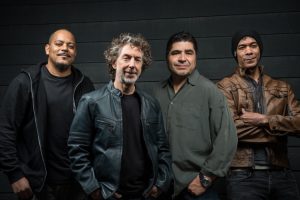 Drum legend Simon Phillips will be performing at Havana New Hope on Dec. 6, along with Greg Howe on guitar, Ernest Tibbs on bass and Otmaro Ruiz on keyboards.
English-born Phillips is also a producer, having spent much of his time in the studio with classic rock bands of the 70s and 80s, and was the drummer for Toto from 1992 to 2014.
Phillips has toured and recorded with Mick Jagger, The Who, Jeff Beck, Jack Bruce, Peter Gabriel, Joe Satriani, Tears for Fears, Pete Townshend, Robert Palmer, and the Pretenders, among many others, and released his new album "Protocol 4" on Oct. 27. Phillips "upped the ante" with new instrumental recording, say promoters.
Building on his past Protocol projects, Simon again enlisted the talented bassist Ernest Tibbs, along with Protocol newcomers Greg Howe and Dennis Hamm. All compositions were written by Simon while on tour.
"For the first time I've really been able to concentrate on writing material on the road," said Phillips. "Lots of creativity on airplanes and in hotel and backstage dressing rooms."
Protocol 4, featuring Simon Phillips, Greg Howe, Ernest Tibbs and Otmaro Ruiz, will appear on Wednesday, Dec. 6 at 8:30 p.m. (6 p.m. doors) at Havana, 105 S. Main St., in New Hope. Tickets for the limited reserved Jazz Room, bar and loft are $75 in advance.