Robin and John Larsen Art Collection Coming to New Hope Arts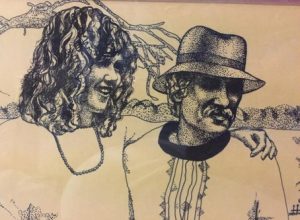 New Hope Arts will host the Robin and John Larsen Art Collection, Exhibition, Auction and Sale from Oct. 27 to 29.
The one-time display of favorite artists of New Hope from the 1970s to the present is a unique commemoration of New Hope's historic and celebrated local artists, featuring more than 150 works collected by New Hope Arts founding family — the Larsens.
Established names represented include Illia Barger, James Feehan, Mira Nakashima, and Rye Tippet, along with the colorful works of Rhonda Bigonet, a memorable figure in the 1970s. A catalog of works is available at the preview, and highlights can be viewed on the New Hope Arts website.
Robin and John Larsen supported the arts and artists of the region for many years during their lives together. Robin was the inspirational force behind the New Hope Arts & Crafts Show, as well as the creator of New Hope Arts, Inc. as a regional center in 2002, and the Outdoor Sculpture Project started in 2003. She passed away in 2009.
John, 90, is the "John" in John & Peter's music club at 96 S. Main St. in New Hope, which recently announced new management that will carry on their tradition of new and original live music.
John will speak at the show's reception evening on Oct. 27 about some of the background of the collection and the artists on view. The preview of the exhibition will include a live and silent auction, refreshments, and the opportunity to acquire art. A portion of the sales will benefit New Hope Arts.
The event is free to the public for the exhibition on Saturday and Sunday, with gallery hours from noon to 5 p.m. New Hope Arts is located at 2 Stockton Ave. in New Hope.
Save
Save
Save
Save
Save
Save
Save
Save