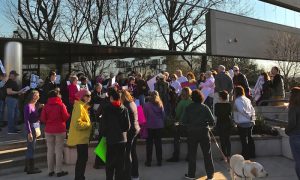 A group of 8th District voters protested Thursday afternoon against what they called the "disastrous" Affordable Care Act (ACA) replacement bill put forth by House Republicans in Washington.

The demonstration was held outside Congressman Brian Fitzpatrick's (PA-08) office at 717 Langhorne Newtown Road in Langhorne.
"Congressman Brian Fitzpatrick has said he doesn't want to repeal without replacement," said organizers. "We wanted thank him for that, but make sure he understood that we don't want just any replacement. We will only stand for something even better for us, not just the very wealthy."

Citing concerns over Fitzpatrick's leadership, dozens of attendees rallied to make sure that their voices and message were heard loud and clear.
"I am fighting because I have had pre-existing conditions for three diseases — cancer twice, and my husband has had two," said Helen Smith of Levittown. "When he was out of work, the ACA kept us covered at a price that we could manage. This rally was an expression of the deep disappointment with Brian Fitzpatrick playing games with the future of Pennsylvania's economy and the lives of its hard working families."  
"Fitzpatrick was hiding inside his office, only willing to see his constituents in small groups," said another attendee. A Fitzpatrick spokesperson asserted that the congressman was in Washington, D.C. at the time.
Protesters also demanded that any ACA replacement cover women's health needs, including contraceptives, and that it not defund Planned Parenthood by blocking federal payments through Medicaid and other government programs. Residents of New Hope and Solebury seemed well represented among their ranks.
Save
Save