New Hope Rodeway Inn Rebrands as Clarion, Lures Rrazz Room Back from Raven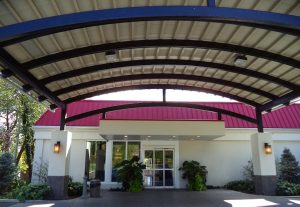 Three major lodging/entertainment players — Raven, Rrazz, and Rodeway — are reshuffling the business deck yet again on New Hope's Route 179/202 corridor.
The Rrazz Room is returning to the Rodeway Inn (formerly a Ramada) at 6246 Lower York Road (Route 202) from the Raven at 385 W. Bridge St.  Rodeway, currently undergoing renovations, will rebrand under the same franchiser as a Clarion. And Raven keeps on trucking with an already full entertainment schedule.
Rrazz Room holds is first show back at its original home April 1, confirmed co-owner Robert Kotonly. He and Rory Paul own four Rrazz Rooms around the country, and their last show at the Raven location was a Jan. 28 sellout performance with with Lady Bunny. Alex Newell will open the Rrazz Room at the Clarion on April 1 at 7:30 p.m.
Former Ramada New Hope owner Thomas Frank changed his affiliation to Choice Hotels in 2015 when his contract with Wyndham expired. Brands under the Choice Hotel banner include Comfort Inn, Comfort Suites, Sleep Inn, Quality, Clarion, EconoLodge, and Rodeway Inn.
New owners apparently have a different vision for the place, and have already invested considerably in renovating the rooms and public areas of the hotel, say observers. Spokespersons for Choice Hotels and the Raven were not immediately available.
"The new owner contacted us, and asked if we'd be interested in moving," explained Kotonly. "Based upon what's happening at the hotel right now, it made sense for us to want to go back, and for them to want us to come back.
"There's a new chef at the hotel, a new menu, new management," Kotonly continued. "The rooms are beautiful, and the space allows us to have 30-40 more seats, and that makes sense for cabaret, especially if you want national headliners.  It's an amicable arrangement all around. I think we made right choice."
Save