Lehigh Valley Punkers The American Myth Taking on the World In a Big Way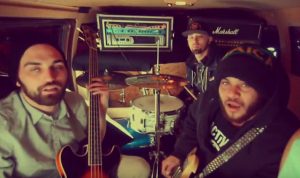 You may not have heard of Lehigh Valley-based three-piece punk rock band The American Myth. They're just under the radar right now. But 2017 is shaping up as the year they start getting noticed in a much bigger way.
The band was formed in 2010 by Andrew Shermeta, who plays bass and does vocals.
"Each of us has different musical influences, but we can definitely agree on the Bouncing Souls, NoFx, the Street Dogs, Green Day, Rancid, Catch 22, The Briggs, and the Beatles," he said.
Like many of their contemporaries, the band doesn't want to be shoehorned into any punk sub-genre, but admit that characterizations like "pop punk," "ska punk," and "reggae punk" are not far from the mark.
"The music is fun, fast-paced, catchy, and politically motivated, because although we like to have fun, we do care about what is going on in the world," explained Shermeta.
"I saw MxPx at a free concert in Pottstown, Pa., and it blew my mind," recalls The American Myth guitarist/vocalist Travis McKayle of his initial inspiration to become a professional musician. "I had to play punk rock. Andrew used to be in a band with a similar style to MxPx and the Bouncing Souls, so when he called me to get a band together, it was pretty much a sealed deal."
"I feel like my drumming is its own style and I play with a lot of emotion," observed band member Chris Slaughter. "I play a Tama Starclassic kit with an Iron Cobra kick pedal, Sabian AAX crashes, Sabian Ozone China, Zildjian Z Custom hi-hats and an A Custom ride," he replied when asked about his instrument preferences. "I will forever play Promark sticks," he added.
"What mainly motivates me to make music is speaking out against all of these artificial dividing lines that have been created among us — racism, sexism, wars, government secrets, homophobia," Shermeta said. "We are all the same. We are all humans."
What's next for the boys?
"We just finished releasing our new record 'Getting the Shaft' with Pete Steinkopf of the Bouncing Souls, one our musical heroes, and now we're touring all over the country to get the word out," said Shermeta.
"This year is going to be sick," continued Shermeta. "If you haven't heard about us before, you certainly will after 2017."
"Getting the Shaft" is available online and on 12" vinyl.
Save
Save