Rain or Sun, Pride Will Shine through 2016 New Hope Celebrates Parade Saturday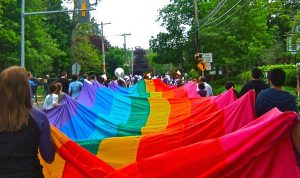 The New Hope Celebrates (NHC) Annual Pride Parade on Saturday is the "keystone of the festival," say organizers, and preparations are running full steam ahead, despite a less than ideal weather forecast.
The parade will take place from 11:30 a.m. to 1 p.m., rain or shine. As of publication time, weather forecasters had lowered the probability of rain somewhat, and past sprinkles have failed to dampen the spirits of parade goers and revelers.

"The parade personifies our diversity by featuring colorful bands, floats, and specialty troupes, while bringing together organizations of service, politics, youth, schools and churches," says NHC. 
"It's a party given by NHC, but the invitation is open to all," according to the group's Facebook event page.

During New Hope's annual Pride Week, an estimated 13,000 visitors line area streets, say organizers.
The parade is one of area's most popular events, largely due to the energy, enthusiasm and creativity of participants and viewers alike, and is fun for the whole family.