U.S. Women's National Team player to appear at Total Soccer in Lambertville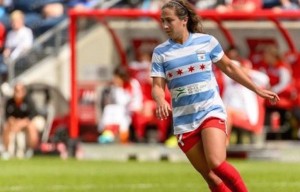 U.S. Women's National Soccer Team player and Freehold, N.J., native Danielle Colaprico will be making a special appearance at Total Soccer in Lambertville on Jan. 31.
Colaprico will run a 90-minute on-field clinic, where players can get an inside look into what its like to train on the Women's National Soccer Team. Afterword, Colaprico will hold a Q&A and autograph session where she will share some of her personal experiences playing alongside the likes of Alex Morgan and Morgan Brian.
Colaprico earned National Women's Soccer League Rookie of the Year honors with the Chicago Red Stars in 2015. A former University of Virginia soccer star, Colaprico started all 20 games for the Chicago Red Stars this season, and played all but 24 minutes, amassing 1,776 minutes of playing time.
Boys and girls are welcome to register for the clinic. The clinic for U8–U11 players will be held 9–11 a.m.; U12–U14 players will be from 12-2 p.m.; and U15 and older will be from 3–5 p.m. Registration is limited to 20 players in each age group. Included in the $75 fee is the on-field session, 30-minute Q&A and autograph session, Total Soccer t-shirt, and Nike mini soccer ball. To register, visit Total Soccer.
Total Soccer is also offering a six-week speed, agility and conditioning program beginning on Jan. 21 with Mike McNulty, president of SPEED LLC. (Strength Performance Enhancement and Explosive Development). To register , visit Total Soccer or call (877)-557-3100. Total Soccer Lambertville is located behind CVS at 278 N. Union St., Suite 140.
Total Soccer in Lambertville is an indoor training facility comprised of 5,000 square feet of artificial turf, and is a "club neutral" organization that supports local clubs and their players by offering expert soccer instruction for all ages and levels. Total Soccer is also located in Warminster and Downington.