Borough Council approves Bucks County Playhouse takeover of New Hope visitor's center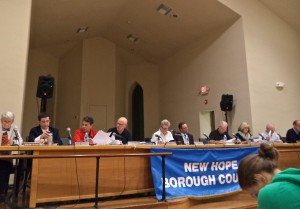 New Hope Borough Council Tuesday night approved a five-year lease with Bucks County Playhouse (BCP) for the historic visitor's center at a rate of $1 per year. While the takeover is widely lauded as a practical solution by a well-organized and popular New Hope organization, Borough Council's proposal review process has been viewed by some observers as flawed.
New Hope Borough Council on Feb. 17 in effect handed over the visitor's center to the Bucks County Playhouse, subject to Tuesday's lease agreement. The Feb. 17 decision was apparently reached in less than two weeks' time, and involved discussions between three council members and the BCP, although Borough Council President Claire Shaw has argued that she and the other two council members did not constitute a committee.
A copy of the lease follows: