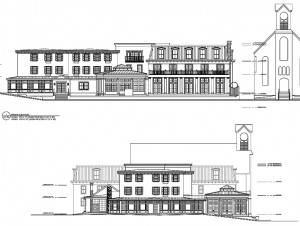 Jersey City Developer Landmark Hospitality expects to complete its purchase of the landmark Logan Inn in March, but plans for a dramatic overhaul and expansion are already in the works.
As the architect's plan indicates, much of the tent-like superstructure housing the inn's outdoor dining and drinking areas to the property's front will be replaced with a more permanent, substantial building addition, apparently housing many more rooms than at present.
The Logan Inn is located on one acre of downtown New Hope turf, has 73 parking spaces, and can seat 400 at the Nikolas restaurant, but boasts only 16 rooms.
The Free Press first reported on Jan. 14, 2014 that the Logan Inn was on the market for $6.7 million and that the likely buyer was Hotel du Village owner Landmark Hospitality. Landmark Principals Frank and Jeanne Cretella bought the nearby Hotel du Village in 2013. Owner Peter Gialias bought the Logan Inn in 2007, and reportedly received an amount not far from his asking price.
The Logan fits in well with Landmark Hospitality's other holdings, which tend toward the traditional, high-end and historic.
Aside from Hotel du Village, Landmark also owns and manages the Liberty House Restaurant inside Liberty State Park in Jersey City, Stone House at Stirling Ridge in Warren, NJ, Crave Caterers (an off-site catering division), Celebrate at Snug Harbor (inside Snug Harbor Cultural Center and Botanical Gardens), Landmark Destination Weddings, and the well-known Ryland Inn in Whitehouse Station, NJ.