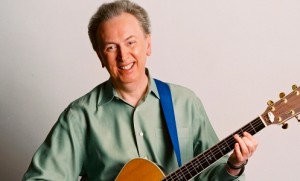 In the late 70s, if you were spending time with a date and they put Al Stewart's Year of the Cat on the stereo, it was a very good sign that the evening would end well. At least 40 years have passed since my bachelor days, and to tell the truth, I really couldn't remember any of Mr. Stewart's work outside of Time Passages and the aforementioned Year of the Cat, so I wasn't completely sure what his show would be like. As it turned out, it was enchanting.
For starters, I didn't realize that along with Stewart came English folk guitar wizard Peter Smith, his accompanist of 20 years, whose lyrical and lovely leads and fills wove a beautiful tapestry around Stewart's delicate, gentle songs. Smooth as silk from decades of playing together and impeccably dressed, they wandered through a flawless set of the modern English folk music, which is Stewart's specialty, sprinkling moments of dry British humor as they bantered between tunes.
These elegant, charming, and slightly-built Brits reminded one of two happy pixies who had become somehow entangled in the music business and spent the last couple of decades traveling around the world, playing pleasant venues in unexplored places, eating well, sightseeing, touring the local bars and beguiling the locals with their sly English wit. I could imagine the two of them planning an upcoming tour:
"Have we played the Italian Alps lately?"
"No. Remember that charming restaurant in the old monastery?"
"Oh yes. Lets book a show there. Their gnocchi was divine."
All in all, it was a delightful show, played to a packed house. The crowd was more familiar with Mr. Stewart's catalog than I was, and gave the duo an enthusiastic welcome, clapping and cheering for every song. From Time Passages to the last note of Year of the Cat (begun with a delicious Batman Theme, and reprised briefly in Mr.White's final solo) it was a wonderful evening of music by seasoned pros.
The Winery did a fine job of presenting this gem. I continue to recommend that you try a show there if you haven't. It's a lovely venue, with plenty of parking, great sight lines, and owners Sandra Price and Jerry Sauls are charming and dedicated hosts who have won my respect for bringing this level of musical entertainment to New Hope/Solebury.
Al Stewart at The Winery, Nov. 15 and 16
Audio by Audio Services
Loren Press
Upcoming acts at New Hope Winery include:
Ted Vigil – A Tribute to John Denver – Dec. 9
An Evening with Raul Malo – Dec. 6(sold out) and 7
Tusk – A Tribute to Fleetwood Mac – Dec. 14