Passing of Nancy Stitchberry Farley, owner/founder of Farley's Bookshop in New Hope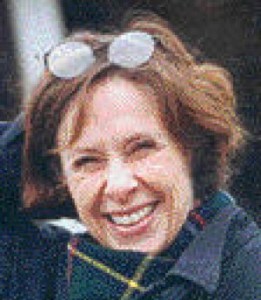 "Farley's Bookshop is sad to announce the passing of owner and founder Nancy Stitchberry Farley on the morning of Sept. 23. Born in York, Pennsylvania in 1939, Nancy founded the bookshop with her husband of forty-three years, Jim, in 1967. Nancy, a former school teacher who graduated from Millersville University, was the person responsible for building, stocking and buying for, our large children's book section. The children's book section was her brainchild and anyone who has ever received a kid's book from Farley's has in many ways enjoyed and benefited from Nancy's personality and legacy.
"There is more than one employee here who as a child was given a children's book from the bookshop, a gift that down the road made them want to work here. For all the people who have complemented our store on our children's book section, or our cards and gifts which were also Nancy's specialties, we thank you, but we can't take all the credit. We're just following a path laid out for us by a very special person some time ago. Nancy was always quick with a laugh, a smile and a great idea and her presence around here will be dearly missed.
"For people who wish to pay their respects, a small memorial service will be held at the Quaker Meetinghouse in Solebury this Friday at 5 p.m. The Meetinghouse is at the intersection of Sugan and Meetinghouse roads. Following the service a reception will be held at Farley's Bookshop. All are invited to attend. If there are any questions please feel free to call the bookshop at 215-862-2452. If anyone would like to express sympathy in memory of Nancy, the Farley and Stitchberry families are asking people to consider the Alzheimer's Association at P.O. Box 96011, Washington, D.C. 20090-6011 and 1-800-272-3900 or www.act.alz.org."