Robert M. Baum: The Art of Contrasts
Date/Time
Date(s) - 11/05/2016
11:00 am - 4:00 pm
Location
Gallery 13 North
Category(ies)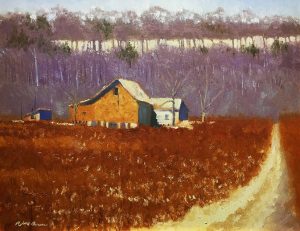 "Robert M. Baum: The Art of Contrasts"
A Solo Exhibition in Various Media
Saturday, November 5, from 11:00am to 4:00pm, there will be a live sculpting demonstration where artist Robert M. Baum will share his clay sculpting techniques and process.
Baum will showcase his current works in various media, including realist paintings, abstract pieces and sculptures at Gallery 13 North (www.Gallery13North.com) located in Lambertville, New Jersey.  "The Art of Contrasts" solo exhibition is on view from November 1 to December 31, 2016.
Born in Cross Keys, New Jersey, Baum started to draw inspiration from nature while sketching landscapes on his grandfather's farm. After a tour of duty in the Air Force during the Vietnam War, Baum completed his bachelor's and master's degrees at what is today Rowan University and built careers in education and journalism while maintaining a gallery presence.
His artworks reflect his studies in art. Baum has studied with Skip Whitcomb and Albert Handel, well known for their Western scenes. His works are also significantly influenced by the use of light found in the art of Kevin MacPherson. His sculptures, which tend to be in a contemporary and realistic style often incorporating the female form, are influenced by the art of ancient civilizations.  In his abstract pieces, Baum likes to develop what he calls "organic shapes" that flow into each other.
Robert M. Baum is represented by Gallery 13 North.
"The Art of Contrasts", solo exhibition by Robert M. Baum
On view Nov. 1 to Dec. 31
Live Sculpting Demonstration on Nov 5 from 11:00am to 4:00pm
Gallery 13 North
13 North Union Street
Lambertville, NJ 08530
Hours: Mon-Sun 10:00am-6:00pm; Sun 12:00pm-5:00pm