New Hope Celebrates Annual Pride Parade 2014 to start in Lambertville
Date/Time
Date(s) - 05/17/2014
11:30 am - 1:00 pm
Location
Lambertville City Hall
Category(ies)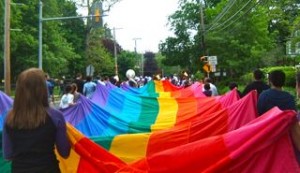 Update: Allyson Schwartz, Gubernatorial Candidate to march in Parade
Join local residents and tourists as they gather for the New Hope Celebrates parade on Saturday May 17th, where for the first time in history, the signature event of Pride Week will kick off in Lambertville, New Jersey before marching into New Hope. The theme "Bridge to Equality" will highlight the fight for marriage equality in PA and across the country.
The parade will begin at Lambertville City Hall where New Jersey's first same sex marriages were performed beginning in October 2013 and march to The Lambertville House on Bridge Street where the parade will pause briefly as Lambertville Mayor David DelVecchio performs a same sex marriage. The parade will then continue down Bridge Street and will pause again on the state line, allowing Mayor Larry Keller and other Pennsylvania politicians to join the marriage float before the parade continues into Pennsylvania, symbolically bringing marriage equality to Pennsylvania.
Featuring special guest hostess Victoria Lace and the honorable Mayor Keller as MCs, parade performances can be seen at the reviewing stand located at the cannon on Ferry St. and at key spots along the parade route. Additional viewing hot spots at: The Lambertville House, The New Hope Lambertville Bridge, Karla's on Mechanic St., John & Peters, Havana and Fran's Pub. Sponsored By EDGE Media.
A free event and all are welcome!
"We can never forget the Stonewall riots that occurred 45 years ago and those who led the fight for our rights. Like the Olympics with their torch, we wave our rainbow colored flags proudly each May in honor of the LGBT civil rights movement; and as a reminder that we still are NOT all free.  I am personally celebrating 30 years of being out the closet this PRIDE, but I am still looking forward to the day when all of us are free to marry world-wide. I wanted to be a part of a group that hosts a celebration of PRIDE every year, and an organization that captures the history of the LGBT community through our Retro-Scope project.  And to celebrate in community who made it a safe place to come out, be ourselves, in a town that accepts and embraces diversity." says NHC Vice President Rori Katz.